Once upon a midnight dreary, while I pondered, weak and weary,
Over many a quaint and curious volume of forgotten lore,
While I nodded, nearly napping, suddenly there came a tapping,
As of some one gently rapping, rapping at my chamber door.
"'Tis some visitor," I muttered, "tapping at my chamber door —
Only this, and nothing more."
The Raven - Edgar Allan Poe, 1809 - 1849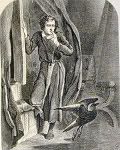 The Raven was first published in January 1845 and became an immediate success. It probably is one of Poe's most famous and loved poems. It is possible that Poe may have been drawing upon various references to ravens in mythology and folklore. In Native American lore, the Raven is a spirit messenger, and it's element is air. In European culture, the Raven is symbolic of wisdom and prophecy. The Raven can be taught to speak and are at times associated with death.
In northern Europe, the Danes and Vikings carried a Raven banner on ships, to honor Odin. These flags were meant as tokens of luck for their voyages. Odin had two Ravens that brought messages and knowledge to him from all parts of the world.
So, one can see why Poe may have decided to use the Raven in his poem to bring a message to him. The lonely man was sitting, pondering over old lore, dozing and in deep sorrow for the love he had lost, when a messenger appeared at his door. What was the message?
Ah, distinctly I remember it was in the bleak December,
And each separate dying ember wrought its ghost upon the floor.
Eagerly I wished the morrow; — vainly I had sought to borrow
From my books surcease of sorrow — sorrow for the lost Lenore —
For the rare and radiant maiden whom the angels name Lenore —
Nameless here for evermore.
The Raven - Edgar Allan Poe, 1809 - 1849
Edgar Allan Poe was considered part of the American Romantic Movement and managed to beautifully combine the romantic aspect of this lost love with the macabre and mystery in his poem, The Raven. Poe married his 13-year old cousin, Virginia Clemm in 1835. Her early death from tuberculosis may have inspired some of his writing. Poe lost many women he had loved throughout his life, and one major theme of his, in his poems, was the death of a beautiful woman.
"Prophet!" said I, "thing of evil - prophet still, if bird or devil!
By that Heaven that bends above us - by that God we both adore -
Tell this soul with sorrow laden if, within the distant Aidenn,
It shall clasp a sainted maiden whom the angels name Lenore -
Clasp a rare and radiant maiden whom the angels name Lenore."
Quoth the Raven, "Nevermore."

"Be that word our sign in parting, bird or fiend ," I shrieked, upstarting —
"Get thee back into the tempest and the Night's Plutonian shore!
Leave no black plume as a token of that lie thy soul hath spoken!
Leave my loneliness unbroken!— quit the bust above my door!
Take thy beak from out my heart, and take thy form from off my door!"
Quoth the Raven, "Nevermore."

And the Raven, never flitting, still is sitting, still is sitting
On the pallid bust of Pallas just above my chamber door;
And his eyes have all the seeming of a demon's that is dreaming,
And the lamplight o'er him streaming throws his shadow on the floor;
And my soul from out that shadow that lies floating on the floor
Shall be lifted — nevermore!
The Raven - Edgar Allan Poe, 1809 - 1849
*******
image of The Raven by John Tenniel retrieved from the following link:
http://en.wikipedia.org/wiki/File:Tenniel-TheRaven.jpg
*******
To read the poem in full and for your reading pleasure:
,