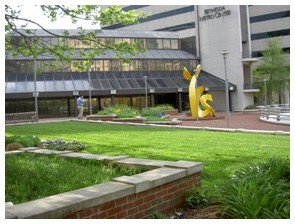 Pete's APizza (prounounced Pete's uh-beetz ) seems like a catchy name for a restaurant that reveres the simplicity of Italian cuisine and celebrates its food culture. Endeavoring to add a sense of authenticity to their planned future establishment, Tom Marr of Fairfax, Virginia, and Joel Mehr of Washington, D.C. applied for a business license based on this shortened phrase for la Pizza, ('a pizza) – an Italian language form that is commonly used in the city of Naples, Italy and its surrounding region.

The two businessmen were stunned when they received a notice rejecting their trade name. It seems that a well established pizza franchise called Little Caesar's from Garden City, Michigan, had been using a similar slogan "Pizza!Pizza!" as an advertising phrase since 1979, and had already established themselves as the largest carry-out pizza chain in the world. The new entrepreneurs would have to choose an alternate trade name, so they added "New Haven Style" between the two words, and opened for business in the Columbia Heights section of Washington, DC at 1400 Irving Street NW, on April 28, 2008.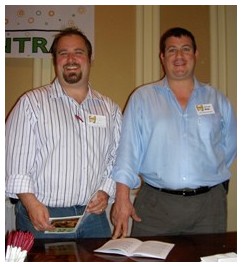 In addition to their focus on organic, locally sourced ingredients, they have established a menu of Gluten Free pizza, pasta, beer, and dessert items for their patrons who require a restricted Celiac diet. With such a broad focus on serving the needs of the community, they were naturally selected to compete in the Third Annual Gluten Free Cooking Spree, presented by the National Foundation for Celiac Awareness under the direction of Alice Bast, and coordinated by Whitney Ehret, held at the Hyatt Regency Bethesda on Friday, May 1, 2009.

Nine teams, each consisting of a chef, physician, and journalist, participated in this foodie competition to produce the most delectable gluten free dish and bring the needs of Celiacs into the national eye. News organizations covering the event included Beer & Brewing at BellaOnline (yours truly, the Beer Fox), CNN, Bethesda Gazette, Washington Post, Washington Times, Burlington Country Times, The Daily Times, and DC Gluties Blog. Judges included Tracy Seaman, test kitchen director for Everyday with Rachel Ray magazine, Dr. Vicki Petersen, Clinic Director for HealthNOW Medical Center in Sunnyvale, California, and Susan K. Flinn, Principal of Susan K. Flinn Consulting, past Director of Legislative Affairs at Advocates for Youth, and an experienced advocate in the public health and public policy field since the late 1980s.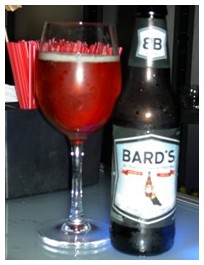 What does the third annual Gluten Free Cooking Spree have to do with beer?

Over 2 million Americans are diagnosed with Celiac Disease and suffer damage to the intestines due to an intolerance to gluten, a protein found in the grains of barley, wheat, rye, spelt, kamut, triticale, and oats (in instances where cross-contamination occurs due to storage, processing or transport). If left untreated, Celiac Disease can lead to serious complications later in life, due to exposure to gluten proteins over the long-term. The most common foods in the American diet consist of those made, thickened, or processed with wheat – breads, pizza, pastas, gravies, mayonnaise, soy sauce, etc. – and with barley or rye - as in the case of most beer made in the Western world.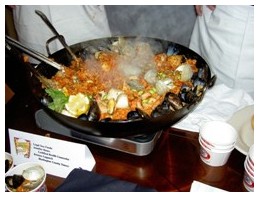 Many foods, particularly virgin fruits, vegetables, and meats, are naturally gluten free. For most foods that are processed, however, the exposure to toxic grains increases dramatically. This makes food selection a major battle for those with Gluten Intolerance, one that can only be alleviated by providing flavorful alternatives that have the satisfying aroma, texture, taste sensations, and mouthfeel of the foods that need to be removed from their diet.

The National Foundation for Celiac Awareness proved, through this successful event, that delicious, satisfying foods and drink does, indeed, exist.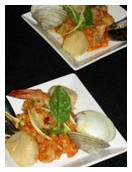 Bard's Beer, gluten free and brewed with 100% malted sorghum, provided beer for the event, a welcome item that pairs well with so many of the dishes, including the various styles of Pete's New Haven Style Apizza pizza, crabcakes made by Chef Davinder Singh of Lilet Café, lamb chops with polenta and Basil chutney made by Chef Richard D'Souza of Sweet Sin, and LTK paella made by Chef Ann Flannery of Legal Sea Foods. Bards Beer is bright copper with a thick, firm off-white head that had incredible staying power in the wine glass. Aromas were malty with a light hop presence. I suspect that this recipe, the process, or the brewery that produces Bards Beer has been re-designed, because the flavors seemed to be improved over the original profile. Although the event offered wine, Woodchuck Draft Ciders, Honest Tea, and Bard's Beer, the choice among the volunteer chefs in the kitchen was clearly for Bards.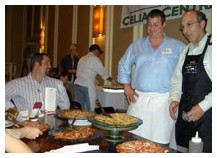 On another note: Pete's own Tom Marr and Joel Mehr teamed up with Dr. Andrew Engel of Reiter, Hill, Johnson & Nevin, and your very own Beer Fox to create Gluten Free pizza crusts using rice flour, tapioca starch, chick pea flour, water, salt and yeast. Pans were dusted with corn flour, then sprayed with a propellent to ensure a no-stick surface. They were topped with tomato sauce, basil, and cheese; sausage and sauteed wild mushrooms; roasted peppers, caramelized onions, kalameta olives, Bufala mozzarella, and Pecorino romano; roasted garlic, clams, Pecorino romano and oregano; and pepperoni. In addition to Pete's New Haven Style Apizza, competitors were from Wildfire Restaurant, Jaleo, Zengo (who won First Prize with Scallops Al mojo de Ajo), Peacock Grand Café, Lilet Café, Hyatt Regency Bethesda, Sweet Sin and Legal Sea Foods.

Cheers!

Photos are(from top): Hyatt Bethesda Metro Center; Chefs Tom Marr and Joel Mehr of Pete's New Haven Style APizza; Bard's Beer; Legal Sea Foods LTK Paella in the pan; Legal Sea Foods Paella on the dish; Pete's APizza team of Tom Marr, Joel Mehr, and Dr. Andrew Engel.


For books on the Gluten Free lifestyle, view: Gluten Free Book List