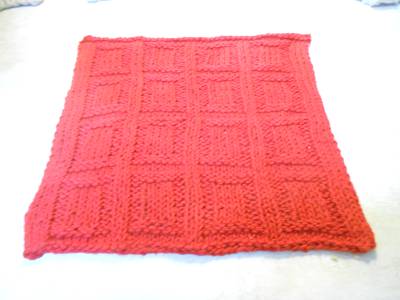 The texture created by raised and lowered knitted and purl stitches are what provides the pattern in this washcloth. The simple pattern knits up quickly. After the first patterns repeat, it is possible to see where the design is going and you may not need to refer to the pattern for each row. The repeating squares give a strong graphic element to the design. The inner part of each square is a bit of a rectangle that forms a square with the border that is around it.
Since it is entirely made of knit and purl stitches, this project is suitable for beginners. The solid fabric when knit in all cotton worsted weight yarn creates a gentle and soft cloth that would be especially suited to personal use, although it could certainly be used for household cleaning tasks as well.
Worsted weight cotton yarn is available at most large craft retailers and also at many smaller local yarn stores. Several colors and prints are available to help you coordinate to décor or personal taste.
Size:
10 inches square,
Materials:
2 ozs or more of 100% cotton worsted weight yarn . Lion Cotton yarn was used to create the sample
Recommended Needles:
Size 5, or the size you need for the proper gauge.
Recommended Gauge:
4 stitches and 6 rows per inch
Abbreviations:
CO – the number of stitches to cast on and begin with.
K – Knit
P - Purl
BO – bind off
If you need to learn or refresh on any of these, please check the related links below.
Pattern Instructions
CO 46 stitches.
Rows 1- 3 K all stitches. This makes 3 rows of garter stitch
Row 4 P all stitches
Row 5 K 4, *P8, K2* repeat * 3 more times, total of 4 repeats, K2
Row 6 P 4 *K8, P2* repeat 3 more times, total of 4 repeats, P2
Row 7, 9, 11, 13 K4, *P2, K4, P2, K2* repeat 3 more times, total of 4 repeats, K2
Repeat Rows 8,10, 12,14 P4, *K2, P4, K2, P2* repeat 3 more times, total of 4 repeats, P2
Row 15 Repeat Row 5
Row 16 Repeat Row 6
Repeat Rows 3 -16 3 more times, total of 4 pattern repeats
Knit 2 rows of garter stitch
BO, weave in ends.
You can block the washcloth if you wish.