Here is a closeup of a sweet young Budgie's head in a jigsaw puzzle for you to put together. Thanks to Louis Garwood for sending this picture of Wilford to me to use.
As always, you may have to scroll over to get the whole puzzle in your computer window. You can make this harder (or easier) by changing the size and shape of puzzle pieces.
Click here
to send this picture as a postcard.
Budgies make great little pets. My friend Louis Garwood has a flock of Budgies and I am lucky that he enjoys taking pictures and sending them to me.
You can tell that this Budgie is fairly young because the lines still cover the top of his head and because his eyes are a solid black. The lines have receded slightly as they used to go right to his cere when he was a baby, but he is still very young.
I used to keep a flock of about 50 Budgies and every one of them had their own personality. Of course, Budgies are Budgies and with that many birds in a large flight, one of the things you can depend on is the noise. Each bird chatters and when you multiply the chatter by 50, you have noise. Of course, it is such a happy noise, that you can not help smiling while listening to them.
I used to breed these Budgies and would remove 3 pairs at a time to set them up in a smaller flight with nest boxes. I handfed many of the babies and always had a waiting list of people wanting baby Budgies.
To learn more about the wonderful little Budgie, you can purchase the e-book I have written about these birds. Information I learned from several years of keeping and breeding Budgies can be found on the pages.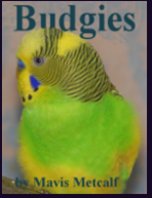 Come to the bird forum, where we can talk Budgies - or we can talk any other pet bird for that matter. You can follow the links below to the most recent posts and just join in.