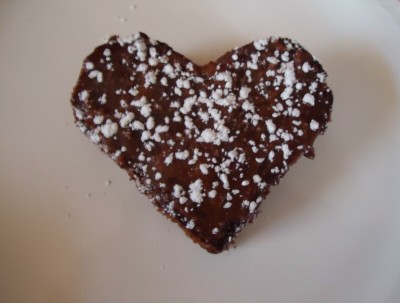 Valentine's Day is a special day to show our loved ones how much we care. Brownies are a great confection to celebrate the day. Everyone loves them and they are easy to make. These brownies are rich with flavor but not overly sweet. Heart shaped cookie cutters turn this everyday brownie into a romantic treat. A homemade dessert is so much more personal and special. This is something you can make for your significant other or friends. Or spend some time baking with your kids. Chocolate will always be the ultimate dessert for your Valentine and the sweetest way to show you care.
Heart Shaped Fudge Brownie Recipe
Ingredients:
3/4 cup cocoa
2/3 cup butter melted
1/2 teaspoon baking powder
1/2 cup boiling water
1 teaspoon instant coffee
1 1/2 cups sugar
3 eggs
1 1/3 cups flour
1 tablespoon vanilla
1/2 cup chocolate chips
Directions:
1. Preheat oven to 350 degrees F.
2. Grease a 9x13 inch pan.
3. Combine the instant coffee and boiling water.
4. In a large mixing bowl, stir together the cocoa, melted butter, and coffee.
5. Stir until combined.
6. Stir in the sugar, eggs, and vanilla.
7. Add the flour and baking powder.
8. Stir in the chocolate chips.
9. Bake in the preheated oven for 30 minutes, or until a toothpick inserted comes out clean.
10. Frost brownies with the recipe below once they have cooled.
Chocolate Brownie Glaze Recipe:
Ingredients:
1 cup confectioner's sugar
2 tablespoons unsweetened cocoa powder
1 tablespoon vanilla
2 tablespoons water
2 tablespoons butter
Heart shaped cookie cutter  
1. Combine cocoa, water, butter, and vanilla in a small saucepan over low heat until melted.
2. Add confectioner's sugar.
3. Stir until combined and smooth.
4. Pour over brownies.
This frosting will harden once it has cooled.
5. Cut the brownies out with the heart shaped cookie cutter.
6. Sprinkle with confectioner's sugar.
Enjoy and sweeten the soul with chocolate!