Name:
Pygmy Hippopotamus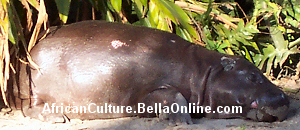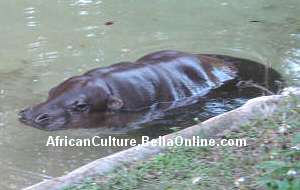 Scientific Name:
Hexaprotodon liberiensis
Height:
2 1/2 feet tall
Average Adult Weight:
350 to 550 pounds
Life Span:
30 to 50 years.
Description:
Pygmy hippos have smooth, hairless skin that is black-brown to purple. Their cheeks are usually tinted pink. They secrete mucous which keeps their skin moist and shiny. A pygmy hippo's body is barrel-shaped and supported by relatively long legs. Its four-toed feet have almost no webbing. Their head is round and narrower than the river hippopotamus and its eyes placed to the side. Their short tail has a tassel of yellow wirey hair.
Habitat:
Pygmy hippos live in dense, swampy forests near rivers, streams and creeks.
Countries found in:
Pygmy hippos live mainly in Liberia with some living in the bordering countries of Sierra Leone, Guinea and the Ivory Coast.
Babies:
Gestation is about six to seven months where one baby is born. Birth may happen on land or in water. A baby pygmy hippo weighs around 14 pounds.
Food:
Pygmy hippos are herbivores and feed on various vegetation, including succulents, tender shoots, leaves, roots, grasses, fallen fruit, and aquatic plants.
Habits:
Pygmy hipppos prefer to sleep in places are usually moist or wet terrain. Pygmy hippos find food on higher, drier ground. Pygmy hippos are nocturnal and are most active between 6 pm and midnight.
Conservation Status:
Critically Threatened. Recent estimates are less than 3,000 pymgy hippo left in the wild.
Predators:
Their primary threat is loss of habitat. They have been hunted for their teeth and for food. Leopards are also a threat.
Interesting Facts:
In 1927, President Calvin Coolidge was given a male pygmy hippo named Billy by Harvey Firestone. Harvey Firestone owned a rubber plantation in Liberia. Most of the pygmy hippos in American zoo are related to Billy.