Name:
Red Ruffed Lemur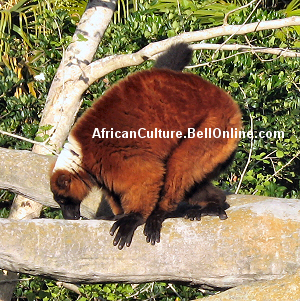 Scientific Name:
Varecia rubra
African Names:
Varimena (Malagasy), Varignena (Malagasy)
Height:
A red ruffed Lemur's body length is roughly 21 inches (53 cm) with a tail length of 23.5 inches (60 cm).
Average Adult Weight:
7.5 to 9 pounds (3.5–4 kg). Females are slightly larger than males.
Life Span:
Red Ruffed Lemurs live 15–20 years in the wild and 25 year in captivity. One Lemur in captivity lived to be about 33 years old.
Description:
Red Ruffed Lemurs have a rust-coloured ruff and body. Its head, stomach, tail, feet, and the insides of its legs are black. There is a white patch on the back of the lemur's neck, and may also have white markings on its feet or mouth.
Habitat:
Red Ruffed Lemurs live in rainforests along the east coast of Madagascar.
Countries found in:
Madagascar
Babies:
Female Red Ruffed Lemurs build nests 11-22 yards (10-20 meters) above the forest floor. The nests are made with twigs, leaves, vines, and fur. Their breeding season is towards the end of the dry season (May to July) so the young are born in the wet season when more food is available.
Ruffed lemurs are also the only primates with litters of young of up to six with two or three being more typical. The gestation period is 102 days.
Newborn lemurs have fur and can see, but are not able to move around. The female leaves them in the nest, instead of carrying them around like other primates, until they are seven weeks old. They are weaned at four months.
Food:
Red Ruffed Lemurs eat fruit, nectar, and pollen with a preference for figs. They will eat leaves and seeds if fruit becomes scarce.
Group Name:
Troop of lemurs. Troops generally have between 2 and 16 lemurs, but can be as large as 30 lemurs. A dominant female presides over a troop which includes both sexes.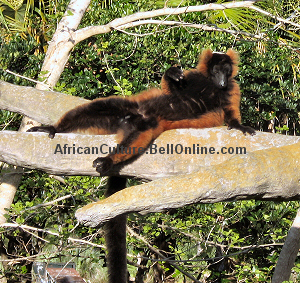 Habits:
Red Ruffed Lemurs have social hierarchies where the females are dominant.
They are diurnal and most active in the morning and evening.
Red Ruffed Lemurs have at least 12 different vocalizations that they use as a method of communication.
They also communicate using scent marking.
Conservation Status:
Endangered due to habitat loss, hunting, and the pet trade as primary threats.
Predators:
Native predators - Fossa (a catlike predator), boa constrictors, eagles, and hawks.
Interesting Facts:
The ring-tailed lemur's tail is longer than its body.
Lemurs are primates and related to monkeys and apes.
Lemurs are not able to use their tails to grab onto branches like a monkey would.
Red Ruffed Lemurs rarely descend all the way to the ground prefering to stay in the forest canopy.