Name:
Emperor Scorpion or Imperial Scorpion
Scientific Name:
Pandinus imperator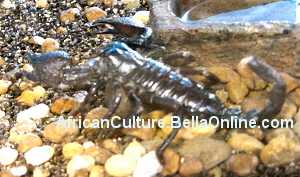 Length:
Adults average about 8 inches long.
Average Adult Weight:
2 ounces
Life Span:
5 to 8 years
Description:
The coloring of an Emperor Scorpion is usually a glossy black or blue. They have large fat pinchers, four pairs of legs and a long tail tipped by a venom gland and a stinger.
Habitat:
Underground in humid rainforests and African savannahs.
Countries found in:
Togo, Chana, Benin, Chad, Guinea, Liberia and the Congo region
Babies:
Emperor Scorpions give birth to live scorpions. The gestation period can last 9 to 18 months depending on temperature and food availability. The female gives birth to an average of 12 young.
Food:
Mainly termites, but will eat crickets, cockroaches, and mealworms. Emperor scorpions are also known to eat small mice and lizards.
Group Name:
A cyclone of scorpions.
Habits:
They are reclusive and like to pend most of their time hiding. Emperor Scorpions burrow into the soil and can be found under rocks, logs and other forest debris. They hunt at night. They rarely sting smaller prey. Emperor scorpions prefer to hold their prey in their powerful claws and tear them apart.
When frightened, Emperor scorpions will run away. Only if they feel trapped will they attempt to sting.
Conservation Status:
Threatened
Predators:
Other scorpions, spiders, parasitic wasps, flies, birds, reptiles, amphibians, monkeys, mongooses, and various rodents.
Interesting Facts:
The Emperor Scorpion is one of the largest scorpions in the world.
They are a popular pet due to their lifespan and fairly low toxicity. This has led to overcollection putting this scorpion on the threatened list.
Emperor scorpions have a waxing coating that when placed under a UV light will glow turquoise.