(Warning: if cuteness annoys the heck out of you, click away now.) Maybe it's cheesy, but the Japanese just love anything *kawaii* or sickeningly sweet, artfully adorable, cartoon-y cute. Cute puppies, cute kids, cute cupcakes, cute miniatures, and now cute lunches. Japanese girls, in particular, have created a craze that combines their love of cute and their love of bento. Shaping rice into irresistible animal faces or rolling sushi so their cut sides show a cartoon design is like food art, if cutesy can be artistic style. I was amazed when I viewed some of the online galleries of cute bento fanatics.
Everything in a kawaii bento is edible which makes the overall creation even more impressive. Now, there are contests in Japan to showcase the best of the best artful bento designs. At the end of this article, I included some links to a few good kawaii bento blogs, books and supplies.
Okay, so I admit that I am a sucker for anything cute, too. I couldn't resist trying to make my own kawaii bento at home for my daughter. But she loves bento and used to take a small bento lunch to her elementary school where other kids were curious about her chopsticks and colorful kamaboko. Today, she's an adult and less enthused about cute food but she appreciates my efforts nonetheless.
The easiest way to start making kawaii bento is to buy special plastic rice molds, and they are available online. But if you are crafty and/or eco-minded, you can come up with your own tools. For example, you can make small rice balls to fashion a snowman or panda bear. Use craft paper punch tools to cut out shapes from nori (seaweed sheets). My daughter and I brainstormed some ideas for creating scenes or characters out of different types of food. If possible, try to use Japanese foods (pickled vegetables, etc.) for a more authentic bento.
Fruit and vegetables are obvious choices for adding color to your cute characters. But there are a lot of Japanese and American ingredients to consider:
Shrimp flakes (comes in green and red)
Nori flakes (green and black)
Fish roe (orange, yellow, green, red)
Pickled vegetables (brown, green, red, yellow, white)
Kamaboko (pink and white fish cake)
Sesame seeds (white, brown if toasted)
Nuts
Powdered cheese mix (orange)
Food colors (to tint white rice)
Fruit leathers/roll-ups
Candies
In addition to cutely shaped rice, add small servings of delicious Japanese foods like teriyaki chicken slices, potato korokke (croquettes), yaki soba, gyoza, edamame, fresh fruit and steamed vegetables.
This pic is of our most recent bento that we made for our special niece, Amanda *Michi* Simpson to celebrate Halloween. One of the musubi is colored like candy corn while the other is a Frankenstein's monster. Notice the bat-shaped teriyaki Spam and ghost potato? Then, we tucked in some gyoza and "bat" wings for okazu.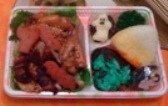 Visit us in the BellaOnline Japanese Food forum to share your cute bento ideas. Here are some great kawaii bento blogs, books and bento boxes!
Blogs
[url=http://www.cookingcute.com]Cooking Cute[/url] A very talented and creative blogger! Check out her gallery.
[url=http://www.kawaii-bento.blogspot.com]Kawaii Bento[/url] Cute American designs.
[url=http://www.kawaii-bento.blogspot.com]Super Cute Kawaii[/url] Not all food-related cuteness, but you can find super cute bento tools and ideas.
Books
Bento boxes:
[url=http://blog.thefind.com/2009/06/bento-box-lunch-boxes/]Too Cute Bento Lunch Supplies [/url]