Why would a Japanese food site feature a book review about dieting? For one thing, when your site owner asks you to do something, you do it (this one's for you, Lisa!) For another, this particular dieting book was written by a Japanese comic artist who gives us a peek into the daily life of an average, contemporary Japanese and the food she eats. I thought my site readers would be interested.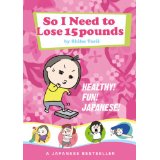 Shiho Torii draws Japanese-style manga comics, and her blog attracted the interest of a book publisher who approached her with the idea of writing a comic-style diet book about her weight loss journey. Torii had no plans to lose weight before this but a gig is a gig for an illustrator and it was a good opportunity to drop 15 pounds. Fifteen pounds isn't a ton, admittedly, but Torii has a small body frame and 15 pounds is enough to negatively impact her overall health.
Torii is typical of most modern Japanese young adults whose diet is heavy in processed foods rather than their elders' diet which is based on fish and vegetables. She craves junk food. If you need to lose weight but can't stand dieting, exercising or taking any action to help your body burn the fat, you'll identify with Torii. Dubious from the start, she draws her resistance, angst and frustration in black-and-white line characters that depict the three key players: herself, her little sis and her editor, Ms. Matsunaga.
Torii's editor-assigned goal was to drop 15 pounds in five months. No one particular food or exercise plan was to be used. Matsunaga ran Torii through 27 different methods of exercise and eating. Toward the end of the book, Torii created a "very subjective" diet assessment chart that listed them, and they included the reset diet, low insulin diet, tai chi, yoga, macrobiotics, gigong, boxercise, hypnosis and colon cleansing among others.
Most of the comic strips featured Torii's not-so-happy thoughts as she complied with each exercise session or resisted the food temptations dangled before her by her tormentor, er, motivator Matsunaga. I felt Torii's utter misery in having to be forced through it all. It was intended to be funny, I suppose, but if this was meant to be a helpful tool for successful weight loss, it missed its point. Torii's goal was to make it five months on her grueling, crazy-quilt program. She had no intention of creating a new and healthful lifestyle of exercise and nutritious eating. But she did intend to make us laugh and that she accomplished.
The cover of the advanced reader copy was printed with the words, "A Japanese bestseller" which couldn't be possible as the title hadn't hit the stands yet. A marketing ploy, no doubt. But with Torii's popularity in Japan perhaps it was wise foresight. It is a cute book. But is this a helpful dieting book? Well, this will make you laugh (which burns calories) and will make you feel better about your own efforts (surely, you won't be as resistant as Torii!) Too bad your copy won't come with a real in-person motivator like Ms. Matsunaga who I suspect is the real secret to Torii's weight loss success. Will Torii keep the weight off without Matsunaga's constant vigil? If you read the last pages of her book, it will give you a big clue: Torii's back to eating doughnuts now that the five-month "diet" is over. And Ms. Matsunaga is planning the sequel on how to deal with a relapse.