Name:
Eurasian Widgeon
Scientific Name:
Anas penelope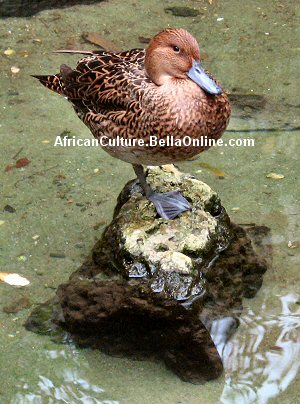 Length:
17 to 20 inches long with a wingspan of 28–31 inches.
Average Adult Weight:
1.5 pounds
Life Span:
3 years
Description:
This is a medium-sized duck. The mature male duck has a dark reddish head and buffy crown, gray sides, a black rear end bordered by white, and a large white patch in its wings.
The immature male duck looks like the light brown female.
Habitat:
Eurasian Widgeons prefer open wetlands and wet grassland or marshes with some taller vegetation.
Countries found in:
The Eurasian Widgeon breeds in northern Europe and Asia and migrates to Southern Asia and Africa during the winter.
Babies:
Eurasian Widgeons typically start breeding around one year of age. The reproductive season begins in April or May. They nest on the ground generally near water and under dense vegetation. The female lines the nest with down and grasses and is a shallow depression. Eight to nine eggs are incubated by the female for 24 to 25 days. Not long after hatching, the young widgeons leave the nest and head for water.
Food:
The Eurasian Widgeon is a dabbling duck. A dabbling duck grazes the bottom of shallow bodies of water for food by turning it self bottom end up and nibbling at vegetation, insects, etc. Eurasian Widgeons prefer pond weeds, eelgrass, other aquatic plants, and grasses.
Group Name:
Flock
Habits:
Wigeons spend most the day swimming and feeding. They do not form large flocks unless they are migrating or there is a large source of food. They will join small flocks of other birds such as American Widgeons occasionally during the fall migration.
Conservation Status:
Least Concern for Extinction
Interesting Facts:
Eurasian Widgeons have been found in on the mid-Atlantic and Pacific coast along with the Southwest and the southern Appalachia area of the United States.
Eurasian Widgeons can fly up to speeds of 70 mph.