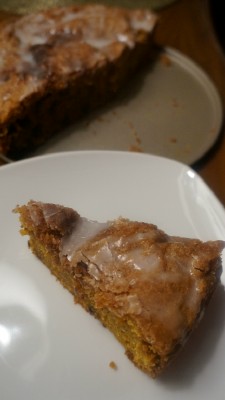 Pumpkin season is officially here and in full swing. Get yourself in the autumn mood with this pumpkin coffee cake. This cake is dense and moist and full of pumpkin flavor. The coffee cake is baked with a crumb topping and finished with a drizzle of glaze. Coffee cakes are great desserts to take to a pot luck, enjoy as a sweet breakfast, or serve after dinner.
Chocolate Chip Pumpkin Coffee Cake Recipe
Ingredients:
8 oz. cream cheese, softened
1 stick of butter (1/2 cup), softened
1 cup sugar
1 cup pumpkin
2 eggs
1 tablespoon vanilla
1 1/2 cups all-purpose flour
1 1/2 teaspoons baking powder
1 cup chocolate chips
2 tablespoons cinnamon
2 teaspoons nutmeg
2 teaspoons ginger
1 teaspoon allspice
Crumb topping:
3 tablespoons butter, melted
1/2 cup flour
1/2 cup sugar
1 tablespoon cinnamon
Icing:
1/2 cup confectioner's sugar
1 tablespoon milk
Directions:
1. Preheat the oven to 350 degrees.
2. Grease an 8 inch or 9 inch springform pan.
3. In a small bowl combine the flour, baking powder, and the spices and set aside.
4. In a large mixing bowl combine the cream cheese, butter, pumpkin, and sugar and beat with an electric mixer until smooth.
5. Add the eggs and the vanilla and continue beating.
6. Slowly add the flour mixture, beating after each addition.
7. Stir in the chocolate chips.
8. Pour the batter in the prepared springform pan.
9. To prepare the crumb topping combine all the ingredients together in a bowl and mix together until crumbs begin to form.
10. Sprinkle over the batter.
11. Bake for 1 hour and 15 minutes.
12. Allow the cake to cool before icing.
13. Remove the side of the pan if desired. I find if I am bringing it to someone it is easier to keep the side on.
14. Combine the confectioner's sugar and milk and stir until smooth (you may need to add a little bit of milk or sugar to get the desired consistency).
15. Drizzle over the cake.
Enjoy and sweeten the soul with chocolate!