Name:
Madagascar Giant Day Gecko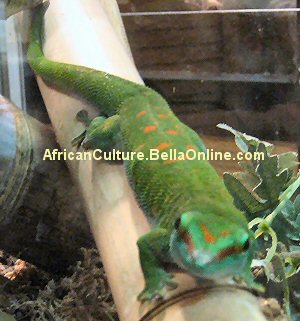 Scientific Name:
Phelsuma madagascariensis grandis
African Names:
Tanafisaka (Malagasy)
Length:
11 inches
Life Span:
They live about 15 years in captivity.
Description:
Madagascar Giant Day Gecko are bright green with distinct red spots on their sides. They also have a deep red line from their eye to the tip of their snout. Males have broader heads and are more colorful than the females.
Mature males develop enlarged pores on their hind legs and produce a waxy substance resembling droplets.
Mature females may have calcium deposits on each side of her neck.
Madagascar Giant Day Geckos have clawless toes that are well developed, have broad, adhesive thin flat scales that enable them to climb smooth surfaces.
Their eyes are large with round pupils and ringed with bright blue.
Habitat:
They are found in tropical and subtropical forests. The Madagascar Giant Day Gecko lives in canopy trees of tropical rain forests and palms of coconut plantations.
Countries found in:
Madagascar Giant Day Gecko are found in Northern Madagascar as well as some of the small islets. Introduced populations can be found in Mauritius, as well as Southern Florida and Hawaii.
Babies:
Female geckos lay two eggs several times a year. The eggs are held between the female's legs until they harden. The eggs are incubated from 47 to 82 days.
Food:
Madagascar Giant Day Geckos eat invertebrates, very small vertebrates, sweet fruit, pollens and nectars.
Habits:
Madagascar Giant Day Geckos are active during the day and night. They prefer to hang out in the canopies of trees.
Conservation Status:
Not Threatened.
Predators:
Madagascar Giant Day Geckos have a number of predators including snakes, other reptiles, birds, spiders and mammals.
Interesting Facts:
Madagascar Giant Day Geckos have no eyelids. To keep them clean, they often lick their eyes.
Half of the Madagascar Giant Day Gecko's length is its tail.
Geckos are the only lizards that produce more than a hiss or other simple sounds. They can make squeaks and clicks as well as barks and croaks.