Name:
Aldabran Giant Tortoise
Scientific Name:
Geochelone gigantea
African Names:
Fano (Malagasy), Sokatra (Malagasy)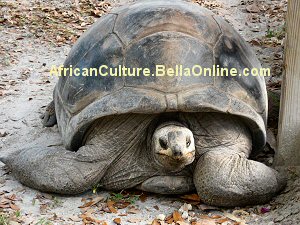 Height:
4 feet long (1.3 m)
Average Adult Weight:
Up to 660 pounds (300 kg)
Life Span:
up to 100 years although some have been thought to live over 200 years.
Description:
The head and legs of these tortoises are too big to be completely pulled into their shells.
Habitat:
Tropical grasslands and coastal areas.
Countries found in:
The Aldabran Giant Tortoise is native to the Aldabra Islands in the Seychelles off the east coast of Africa in the Indian ocean. The world's largest population of Aldabran Giant Tortoise is on the Aldabra Atoll in Seychelles with about 152,000 tortoises. Anther isolated population can be found in Zanzibar.
Babies:
A female tortoise digs a hole on the beach and lays between 10 and 20 eggs. About two months later the baby tortoises hatch. The soft shelled eggs are vulnerable to robber crabs, frigate birds, rats, and cats.
Food:
Cacti, grasses, herbs, flowers, and shrubs. Occasionally this tortoise will eat carrion including other dead tortoises. Tortoises eat in the cool of the morning and late evening.
Habits:
Tortoises can be found crammed together and stacked up on top of each other beneath the shade of a tree during to day to avoid the hot sun.
Group Name:
Herd
Conservation Status:
Vulnerable
Predators:
Non-native rats and other introduced animals. Overhunting by humans is also an issue.
Interesting Facts:
Giant tortoise were a favorite food of sailors because the tortoise could go months without food and water.
The Galapagos tortoise is the only other surviving giant tortoise species.
Male tortoises will bellow loudly to attract females for mating.
Some Aldabran Tortoises enjoy having their heads patted.