Name:
Yellow-Backed Duiker (pronounced DIKE-er)
Scientific Name:
Cephalophus silvicultor
African Names:
Tuba (Dioula)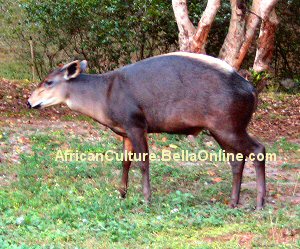 Height:
30 inches high at the shoulder and about 3 to 4 feet in length.
Average Adult Weight:
130 pounds
Life Span:
Ten to twelve years
Description:
The Yellow-Backed Duiker's coat is colored dark brown to black and it has a yellow stripe above its hindquarters. Their muzzle is light grey in color and the lips are white. Their eyes and ears are small. The Yellow-Backed Duiker is fairly heavyset with slender legs. Yellow-Backed Duikers have slightly ridged, wedge-shaped horns which are about 3 1/2 to 8 1/2 inches long and curving down slightly.
Habitat:
They live in dense and open rainforest.
Countries found in:
Yellow-Backed Duikers live in western central Africa - Angola, Benin, Cameroon, Congo, Cote D'Ivoire, Democratic Republic of the Congo, Equatorial Guinea, Gabon, Gambia, Ghana, Guinea, Guinea-Bissau, Liberia, Nigeria, Sierra Leone, Togo, and Zambia with small populations in Kenya and Senegal.
Babies:
The gestation period is seven months with one young duiker per birth. Rarely, there will be two babies born at one time. After the baby's birth, the newborn lies hidden in the bushed for over a week before it begins to venture out and nibble on vegetation.
Food:
Yellow-Backed Duikers eat seeds, fruits, grasses, fungi, and foliage.
Habits:
They live singly or in pairs.
Yellow-Backed Duikers are nocturnal.
Conservation Status:
Least Concern for extinction
Predators:
Leopard, python, crocodile, and civet.
Interesting Facts:
Duiker ("DIKE-er") is Africaans for "diver" refering to their habit of ducking into dense undergrowth when they are alarmed.