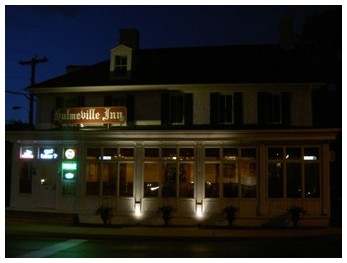 Two hundred years ago, stagecoaches were king. As a major mode of transportation in the United States, they pioneered systems for mail delivery, merchant trade, and the transport of families from city to city. Competition among coach companies was intense, each one boasting the fastest horses, safest drivers, or plushest seats. Convenience and comfort were marketed to the max, and those that stopped at renowned taverns or inns between major cities held a profitable advantage. One of those lines ran from Trenton, New Jersey to Philadelphia, Pennsylvania on the route known as Trenton Road. Along the way, the Hulmeville Inn in Lower Bucks County served as a welcome intermission.

Deeds for the building now known as the Hulmeville Inn go back to 1810, but tax documents record its existence 20 years earlier. Carriages could board on the property, while travelers stopped for respite. During Prohibition, the owners of the building focused on the business of ice cream. Afterward, it became a café frequented by the locals, and in 1994, took on its current name of Hulmeville Inn.


Hulmeville Inn Owner/Proprietor Jeff Lavin has been called the "patron saint of the Bucks County beer scene." With an innate passion for craft beer, he has built strong connections with the Origlio Beverage marketing team, the ALEiens Homebrew Club, and Steve Hawk, the 2010 Philly Beer Geek champion whom he sponsored for the 2010 competition. With a reputation for kicking kegs at the speed of light, the Hulmeville Inn serves a well-balanced list of highly-regarded beers on draft and maintains a bottle list that can titillate a beer-connoisseur's well-developed palate.

Lavin is persistent at adding value to the Inn that enhances the tavern experience, while keeping the historic feel alive. Patrons can relax in a game room with billiard tables, a dart board, juke box and service-window that opens to the main bar. The front sun-room attracts sports fans with big screen TVs, and the welcoming main bar feels like home turf.

Hulmeville Inn became known as the "Home of Philly Beer Geek 2010" when Lavin agreed to sponsor Stephen Hawk in a Philadelphia competition that offered an award worth over a thousand dollars in beer-centric prizes. As a ne'er-give-up competitor in the Philly Beer Geek contest since it began in 2008, Hawk rose above the competition with his knowledge, wit, passion for beer, and good humor and won the crown in June of 2010.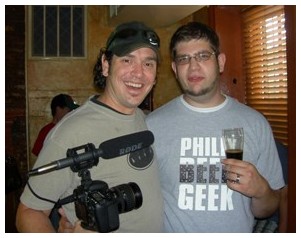 As the sponsor of Steve Hawk, Lavin paid a sponsorship fee of $100 and contributed two $25 gift cards, three t-shirts, and bottles of Abdij Sint Sixtus Westvleteren 12, Russian River Consecration, and Lost Abbey's Angel's Share ("and a crappy basket'" says Lavin), to the winner's cache, with no guarantee that the man he sponsored would win the grand prize. Lavin just believed in Hawk.

The Philly Beer Geek competition was held at Manayunk Restaurant and Brewery, and Lavin was there to cheer him on – with a van filled with 15 fans from the Hulmeville Inn. A month later, on July 18th, Jeff Lavin held a victory party for Stephen Hawk, celebrating him as Philadelphia's most knowledgeable and passionate champion of craft beer.

Word got out through Twitter and Facebook. The sizzle of burgers and hot dogs announced the celebration to the neighborhood, while the thrill of rare beers warmed the insides of all who came to the Hulmeville to congratulate the champ.
In a classic bar pose, Steve Hawk's airbrushed body was sprawled-out across a victory cake, and Lavin displayed the brass and wood plaque that announced his bar as the Home of the Philly Beer Geek 2010.

Steve Hawk was worthy of his title. Hoofing through the crowd with a 3-gallon mini-keg of Sierra Nevada ExPorter on his back, Hawk raised over $843.00 for the Pancreatic Cancer Action Network, in honor of drinks-writer Lew Bryson's Dad who had recently fought and lost his own battle against the disease.

Kudos came from all segments of Philly's craft beer scene. Those in attendance included Lew and Cathy Bryson, Bryan and Patty Kolesar, Mat Falco, Stephen Lyford, Don Gravatt, Mike Sodano, Christine Gumpper, Annie Gumpper Campoli, Carolyn Smagalski (yours truly, proud sponsor and co-founder of Philly Beer Geek), Steve's cherubic wife Crystal, his sister Rachel Laird, and ever-proud Mom and Dad. Award-winning filmmaker/director Michael Ryan Lawrence of Philly Philms seized the opportunity to document the event for his upcoming film, Beeradelphia.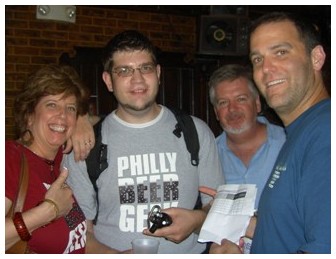 Steve Hawk has now taken his role as Philly Beer Geek "a step beyond" by founding a small 1 BBL brewery, currently called Local Nano, to create his own interpretation of local, quality craft beer. As co-founder of the ALEiens Homebrew Club, he knows his craft. The club started with 14 members, and now boasts a roll call of 170.

As a tribute to Jeff Lavin and Unibroue's La Fin Du Monde, Hawk created his first Nano batch and named it Lavin Dude Mon. This strong Belgian beer echoes the profile of a Tripel, with nuances of clove and spices. Whispers of "bourbon-oaked" add a level of mystery that stimulates curiosity among his friends and regulars. Hawk's follow-up beer has been knighted Porterdelphia by Michael Lawrence, and Hawk knew it had found a home.

In classic "Philly Beer Geek" fashion, Natalie DeChico creates dog treats using the spent grain from each batch made by Hawk. Imitating Hawk's lead, all proceeds from the sale of these treats are donated to a local animal charity.

Philadelphia had a reputation as the City of Brotherly Love. Stephen Hawk and Jeff Lavin have revived the essence of Philadelphia's tradition and what it really means to carry the title as Philly Beer Geek and the Home of the Philly Beer Geek 2010.

Cheers!

Photos are (from top): Hulmeville Inn, Home of Philly Beer Geek 2010; Jeff Lavin, Owner of Hulmeville Inn; Michael Lawrence of Philly Philms and Steve Hawk, Philly Beer Geek 2010; Beer Fox Carolyn Smagalski, Steve Hawk, Mike Sodano, and Bryan Kolesar of the Brew Lounge