Knitting is made up of very few stitches and the most basic of these is the knit stitch. The knit stitch is the foundation of knitting and although reading about it may be confusing actually doing it is straight forward. Several rows of knit stitches creates a bumpy pattern called garter stitch. This is commonly used to make scarves, dishcloths, sweaters and other useful items. Garter stitch projects are thick and do not roll, they lie flat and often do not need to be blocked. Therefore, a first project of all knit stitches has many advantages to the beginner.
Here is an example of Garter Stitch Fabric: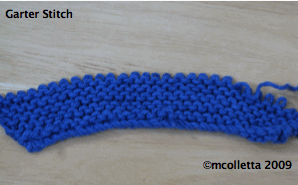 After casting on using any method you choose you can create the knit stitch by putting the needle with stitches on it in your left hand. Using an empty needle of the same size in your right hand insert your right hand needle from the back to the front of the first stitch on the left hand needle as shown in Figure 1.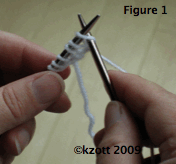 Wrap the yarn around the back of the right hand needle as shown in Figure 2.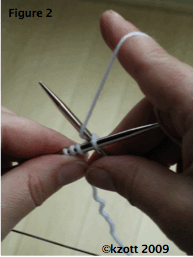 And then after wrapping the yarn around the right-hand needle, pull the yarn through the loop on the left hand needle as shown in figure 3.
Leave the resulting loop on the right hand needle and slide the loop off of the left hand needle.
Continue practicing making these stitches by following the steps above until there are no longer any stitches on the left-hand needle. Turn your work so that the needle in your right hand is moved to your left hand and begin the process again. The resulting fabric will be thick and almost spongy depending on the thickness of the yarn you use. Practice this until you are comfortable or at least not uncomfortable and then you will be ready for the next stitch you will need in your arsenal the purl stitch.