Project Information: • Skill level: Basic • MicrosoftR WindowsR

If you have not already made a folder for storing the images you create in my tutorials, let's do that now. Having a folder on your desktop for storing these images is a great convenience. You will have a special place for all your images and will always know where they are when you want to work on them or upload them to the web. So let's make the folder. Of course, if you are working on more than one project at a time, you might want to place individual project folders inside your images folder.

Step 1. Place your mouse pointer over a blank area of your desktop screen. Click on the right mouse button to open the drop-down menu. (Figure 1) Click on the New button to open another drop-down menu, and then click on Folder.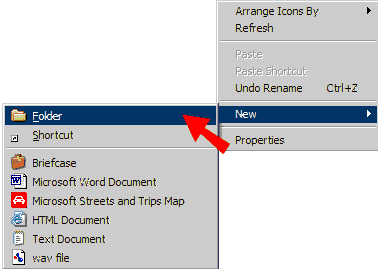 Figure 1.



Step 2. You will now see the icon for the new folder appear on your screen (Figure 2) with the words "New Folder" highlighted. Change the name of this folder to "My Images". That's all there is to it.




Figure 2.




Screen shots reprinted by permission from Microsoft Corporation. WindowsR and MicrosoftR are either registered trademarks or trademarks of Microsoft Corporation in the United States and/or other countries.