Project Information: • Skill level: Basic • CorelR JascR Paint ShopTM ProR 8 • General tips • Inkjet Printer • 8 1/2 x 11 inch blank greeting card (quarter fold)

After you have your image ready to print onto a quarter fold blank greeting card, follow the directions below.

Step 1. Front of card. Open the image into the Paint Shop Pro program.


Open Template
Step 2. Choose the template for your card. Click File > Print Layout to open the Print Layout window. Click on the Open Template icon to open the Templates dialog box. Select one of the template categories such as Avery. Now select a quarter fold template such as 3266 and click OK. (see Figure 1)



Figure 1. Templates Dialog Box

Step 3. Show the grid. Click Preferences > Options to open the Print Layout dialog box. Under Grid Settings, click Show Grid.



Free Format Button
Step 4. Set cell options. Click on the upper right box on the template to activate this cell. Click on the Free Format button at the top of the window. Drag the thumbnail into the upper right cell of the template. Use the corner handles to adjust the image within the print area of this cell. (see Figure 2)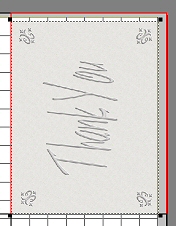 Figure 2

Step 5. Print a test copy. To print a test copy, click File > Print Setup. When the Print Setup dialog box opens, click on the Properties button. Set the print quality to Draft and close the dialog box. Click File > Print.

Step 6. Print your card. When you are ready to print your card, set the print quality back to the original setting. After printing the card, close the Print Layout window. If you prefer you can trim off the white border on the card.



JascR material used by permission of Jasc Software, Inc. Copyright ©1997-2000 Jasc Software, Inc. All Rights Reserved. Paint Shop Pro, Animation Shop, Paint Shop Photo Album, Paint Shop Pro Studio and Jasc are registered trademarks of Jasc Software, Inc.