Project Information: • Skill level: Basic • CorelR JascR Paint ShopTM ProR 8 • General tips • Image for picture tube

If you find that you are using an image quite often, you can save a lot of time and repetitive tasks by turning that image into a picture tube. After it is in this picture tube format, you can "paint" with your image as a paintbrush with one click of the mouse. It is very easy to create your own picture tubes from your own images.

Step 1. We will start with your image. You may need to adjust the image before you convert it to a picture tube. It doesn't need to have a transparent background, but a colored background does limit the number of ways you can use the image. The image needs to be on a raster layer. If your image is on the background layer, you will have to convert it to a raster layer. Click Layers > Promote Background Layer. Also your image can have a drop shadow if you like. If you decide you want a drop shadow, do that now.

Step 2. Crop your image. If there is any wasted space around the image, now is the time to crop that.

Step 3. Merge all visible layers. When you have made all the final adjustments to your image, click Layers > Merge > Merge All Visible.

Step 4. Now you are ready to make your picture tube. Click File > Export > Picture Tube to open the Export Picture Tube dialog box. Set the dialog box to the following settings (see Figure 1) and give your new picture tube a name.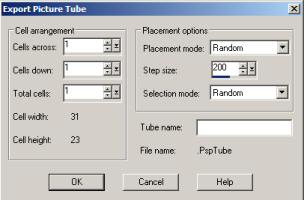 Figure 1. Export Picture Tube Dialog Box

Cell arrangement
Cells across: 1
Cells down: 1
Total cells: 1

Placement options
Placement mode: Random
Step size: default
Selection mode: Random



Picture Tube Tool
That's it. Now the next time you need your image, click on the Picture Tube icon and your image will be in the drop-down list in the Tool Options palette.




Click To Enlarge Thumbnail
Picture Tube - Tool Options Palette



JascR material used by permission of Jasc Software, Inc. Copyright ©1997-2000 Jasc Software, Inc. All Rights Reserved. Paint Shop Pro, Animation Shop, Paint Shop Photo Album, Paint Shop Pro Studio and Jasc are registered trademarks of Jasc Software, Inc.