Bethany Hamilton
Lisa Shea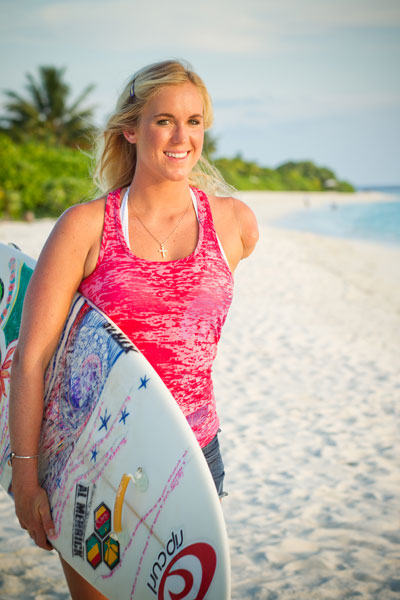 How did surfing become such a passion for you?
I grew up going to the beach all the time and spent a lot of time in the water. My whole family surfed so I was next in line to learn. I was hooked since I can remember! I love just being in the water with the rush of feelings I get when surfing! When I was about seven, I met another girl my age, Alana Blanchard, who surfed too. We became best friends, and that's all we did together! Today we are good friends and both pro surfers with great careers!
After the shark attack, how did you focus your energy for healing?
Well I was 13, so my focus at that moment was getting back to normal life and having fun with my friends. While at the hospital, my faith in Jesus was what held me and my family and friends together. I had been praying for God to use me for a greater purpose than just being a surfer. This shook our world, no doubt, but it was almost an answer to prayer at the same time. I felt in my heart that God had allowed this to happen to me; therefore HE would help me overcome any challenges that having only one arm would bring. That hope helped me to have a positive attitude and to be strong and confident that I would heal and recover. Surfing was a big part of my healing too.
Were there any around you who told you you'd never surf again? How did you move past their negative energy?
I think it was one of those things that everyone just assumed, but nobody really said out loud. In hospital/trauma situations people generally do their best to comfort rather than condescend. My parents were saying that they would support me in whatever I wanted to do - soccer, photography, and even said we'd move to the mountains if I wanted to take up snowboarding. When I mentioned that I wanted to try surfing again, nobody seemed too against it. They mostly agreed that it wouldn't hurt to try. Everyone thought at best I would be able to maybe longboard again.
Was it challenging to have to ask for help while you healed?
I always make it a point to try to figure out how do things myself before I ask for help. But yes it did take some getting used to having to have mom help me tie my swimsuit tops and put up my hair, things like that.
Do you sometimes encounter resistance in your current surfing career from others who feel you're not up to it? How do you stay strong?
I think at this point I've proven that I can handle most things, even if it's in a modified way. So people don't really say anything (to me anyway) that shows resistance. Everyone has been really supportive.
I imagine some people might make inappropriate comments about your injury, or treat you differently. Do you have tips on remaining serene?
It's funny cause I actually haven't encountered this very much. I think it's because my whole story has been in the public eye and most people respect how I've handled and made the best of my situation. But as a tip to others, I would encourage you to just be confident in who you are and how you look. Do not let others influence you into thinking negatively about yourself. I try to always be thankful for all that I have and be a light to others!
You now have a wealth of influence and reach due to the injury. Do you sometimes feel as if this was the right path for your life?
There's no doubt in my mind that this was the right path for my life. Loosing my arm has blessed more people than I ever could have in a "normal" life. My family and I hear thousands of testimonies as to how my decisions in life have inspired them. So, to me, every hard moment has been worth it.
So many people face challenges in their lives and are told by others to give up on their dreams. What is the message you would give to those people?
I believe that God has given us the ability to dream and have ambitions. Though things may get in the way, even things that make our goals seem impossible, we need to press forward and not give up on having dreams & ambitions. It doesn't matter if they change in the process. It's having a dream and a goal that matters - they're what keep us motivated to do something in life and not be lazy!
Any final thought for people to ponder?
I would encourage you to just LOVE LIFE! Enjoy even the hard stuff -- let God carry you and bring you joy -- and focus on a positive outcome through it. Be your beautiful self!
Bethany Hamilton
http://bethanyhamilton.com/