Denise Mancuso
Lisa Shea
How did you first get into soapmaking?
I am a full-time working mom with two young children and found myself needing something to do that was for me, and me alone. I needed to de-stress from my hectic job, and have some quality 'me' time. I knew I needed to craft, but wasn't sure what interested me most. I spent hours researching online, and then after spending what seemed like hours in Michaels Crafts (which has now become my second home!) I decided to try a soapmaking kit. The quality of the soap was not the best, but I loved the idea of working with a material that was practical and could be actually used and enjoyed. It was also foolproof! I found that I was able to immediately get the hang of it and not worry about ruining the soap. It may not have looked pretty, but it was still usable! That was just over a year and a half ago and I've learned so much since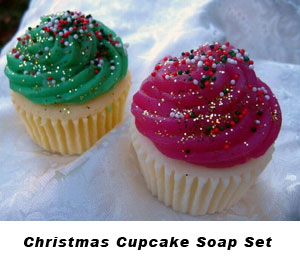 What made you think of creating "food like" soaps?
When I first started soaping, I knew I wanted to be different and stand out from the crowd. Working with Melt & Pour soap is not a complicated thing to do, so being unique and adding some of your own special touches is a necessity! To make soap that resembles what people are familiar with is quite challenging - there's a lot of work involved in getting the full detail; the color just so; the scent just right. If it's off even just a little, it loses the impact. I get such satisfaction from people saying "How did you do that" and "Can I eat it?" People are often concerned their children might eat the soap, but the amusement for me is the fact that the kids are fine with it - it's usually their dads who attempt to taste it! Plus, an overall love of food helps!
Your cupcake soaps are absolutely gorgeous - far prettier than many real cupcakes Iíve seen. How did you perfect that look?
I have yet to meet someone who doesn't love a good cupcake! I love working on cupcake designs as they just present endless possibilities. From working with different colors and scents, to the addition of sugar embellishments, there are so many ways to customize the ideal cupcake. My customers love these because they're easy to coordinate to their party themes. There are always things we can do to make their 'perfect' cupcake - and it's fat free, too!
You put immense effort into creating these works of art - and people promptly destroy them. What is it like creating "short lived art"?
I admit, when I first began soaping, I did not expect to think of it as an art. It was to be a hobby. My customers, and the attention I was gaining, helped me realize that what I did was in fact an art form, and my thoughts quickly changed. I always take a great deal of pride in what I do, so knowing that my customers are receiving a work of art that they can appreciate and actually use to pamper themselves is satisfying for me. Plus, knowing they have a huge smile on their face when they receive their soaps makes me smile - that's the best appreciation of all! When customers say "I can't use it - it looks too good" I always remind them that it's soap - it's meant to be used!
Do you find that some people donít use the soaps for their stated purpose because they are too pretty? Does that then make these more "fragrant sculptures" than soap?
I have three types of customers - those who love to pamper themselves with luxurious soap, those who buy it to display and appreciate the novelty aspect of the designs and those who consider my soaps to be the ultimate unique gift. Many people will purchase soaps in colors to match their room decor and use them as accents in their homes. I know these soaps won't be used, but there's such pride in knowing my art will be adding beauty to their home. I also have customers who will use my soaps as props for their own art projects and product merchandizing. They are relying on my products to work with their displays to highlight their craft and that's something I take great pride in.
Do you find the sweet items sell more than the "healthy items" like the baby carrots?
It is very difficult to predict what will be a big seller. Sometimes I'll make things because they hold special meaning for me - the baby carrots with ranch dressing is one of my daughter's favorite snacks at the moment, so when I created the soap it was with her in mind. That set has gotten a lot of positive attention, and customers have written me to tell me how perfect it is for their own children and people they know. My items are relatable - customers find comfort in the comfort foods (hamburger, nachos, macaroni & cheese) and indulgence in the sweet and tempting desserts. There's also the novelty factor - being able to give a gift that you won't see everywhere.
Do you have ideas for future soap areas that youíd like to explore?
I am always coming up with ideas! Coming up with new ideas has become an obsession with me, and I find inspiration everywhere! Whether we're walking the mall, or I'm on the train heading to work, I will spot something and right away think of it in soap form. I will often take notes while ideas are fresh in my mind and then start building on that concept - and I'm usually frustrated if I'm not home to start working on it right away. I have several great ideas brewing in my mind - the key is to find the time to develop them all. Keep your eyes peeled - new ideas are always popping up!
What suggestions do you have for other soapers who feel they are lost in the crowd - how can they figure out what their niche is?
The biggest key, for me, is to not be afraid to be different. Don't try to appeal to everyone - there's no way you can. Just be proud of what you do, do it well, and respect your customers and you'll always stand out. As confidence builds, your creativity will too and you'll own your own ideas.
Do you find you do best with online sales, in person fairs, or some combination?
I have to admit I've never sold at a craft fair. My sales are all online. I would like to try a craft fair, but I never see myself as a salesperson. I am a crafter, and I love the creative edge of what I do. The idea of selling is always secondary. The thing I like most about online selling is the item really sells itself.
What final words of wisdom would you offer to a hopeful soaper?
Find what you like to do, and follow through. Don't worry about what others are doing - you'll find all kinds of people and some may follow your lead and work with your ideas. Never let it affect how you work. Take pride and make your style your own!
To see more of these gorgeous soaps, visit:
http://www.ajsweetsoap.com/