Here are screenshot comparisons of Gun on both systems, using a high definition TV. Note that of course if your COMPUTER MONITOR is low resolution, you won't see the detail difference. The screenshots I show can only be as good as your monitor is.
I took these pictures with a digital camera. Note that my hands aren't perfectly steady, so there is a little jitter here :)
Regular XBox version of Gun, actual gameplay screen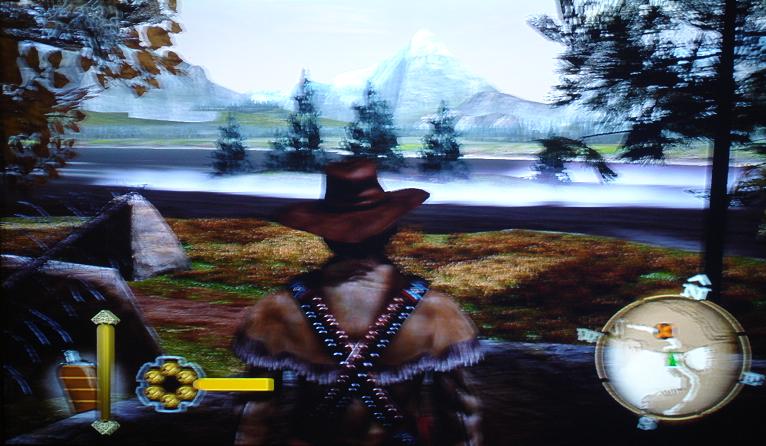 XBox 360 version of Gun, actual gameplay screen
Both of these are really well done graphics, which is of course a credit to the Gun team. It's only fair to compare the best of what the XBox has to offer with the same developers working on the XBox 360. You can see how the XBox 360 gives a wider field of vision, and more bright and crisp visuals. It's sort of hard to see with my 'hand shake', but the outfit fringe and gun belt is FAR more detailed on the XBox 360.
If you look at the path in the foreground, on the XBox 360 it's far more visible, with the little tufts of grass and such showing.
XBox 360 Comparison Screenshot Set 1
XBox 360 Comparison Screenshot Set 3
XBox 360 Comparison Screenshot Set 4
XBox 360 Comparison Screenshot Set 5