Project Information: • Skill level: Basic • CorelR JascR Paint ShopTM ProR 8 • General tips

Learning how to use a new software program can be a bit difficult at first. But if you take it step-by-step, it's not so bad. When you open the Paint Shop Pro 8 program, you will notice that most of the controls are grayed out. That means they cannot be used. You can unlock the controls in two ways. You can start a new image or open an existing image. Let's start a new image.

To start a new image, go to the Menu bar at the top of the program window. Click File > New to open the New Image dialog box. Let's take a look at this dialog box. (Figure 1)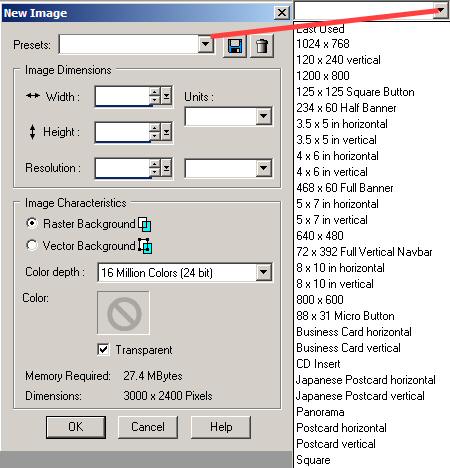 Figure 1. New Image dialog box

At the top of the dialog box is the Presets drop-down list. This is a list of preset image information based on standard sizes. For example, there is a horizontal business card, vertical business card, horizontal postcard, vertical postcard, and CD insert. When you use one of the many presets from the list, the rest of the values in the dialog box are set automatically to the corresponding settings. Of course, you are not limited to just the Presets list. You can also set the values in the dialog box manually for a custom image. Let's walk through the process of creating a custom image. You will create an image that will be 300 pixels wide and 300 pixels tall.

Image Dimensions:


First, find the Image Dimensions section that is just under the Presets drop-down list. Choose the units (of measurement) from the Units drop-down list. Your choices are Pixels, Inches, or Centimeters. For this lesson set the Units to Pixels. Now type a 300 in the Width and Height boxes.


The Resolution needs to be set next. You will continue to use Pixels. Set the second Units drop-down list to Pixels/inch. As for the number value for the Resolution, you have several options. There have been many books written on the subject of image resolution. Generally you choose a resolution based on what you plan to do with the finished image. If the image will be viewed over the web or only on a computer monitor, you can set the resolution to 72. However, if you will be printing the image, you can use a setting of 200 or more.


Next →



JascR material used by permission of Jasc Software, Inc. Copyright ©1997-2000 Jasc Software, Inc. All Rights Reserved. Paint Shop Pro, Animation Shop, Paint Shop Photo Album, Paint Shop Pro Studio and Jasc are registered trademarks of Jasc Software, Inc.