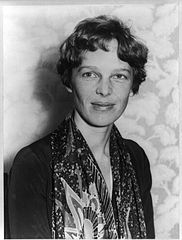 One of the most famous women in all of history is Amelia Earhart. Women over the decades have looked up to this woman who broke barriers and showed that women had the stuff to do what once was considered outside their realm. The mystery of her death just adds to the fascination. But what helped shape the woman who would take the world by storm and leave it just as abruptly?
In 1897, Kansas became the home of a small baby who would one day change the world. Of course, the parents did not realize that at first, but it was destined to be. Why destined? Because no matter how relatives tried to tame the child, Amelia was determined to live life to the fullest.
Living part of the year with her grandparents and the other part with her parents, Amelia never was bored. She was the local tomboy that was determined to discover everything about the world around her. Trees posed no obstacle to her. Hills beckoned her to slide down them. The men's world of hunting become her world, too.
When Amelia saw her very first plane at the state fair at the age of ten, she was not too impressed. Planes in the beginning were not what we are used to today. What Amelia saw was a little bit different. A few pieces of wood, metal, cloth, and screws. To us today we would be amazed at how the early aviators actually did it.
It was a few years later that she was given a glimpse into the thrill of flying. At a flying stunt event, a plane took a risk and dove at her and a friend. Pulling up just in time, Amelia felt a rush like nothing any of her tomboy activities ever gave her. She just had to do it.
In 1920, she was given her chance. She was taken up in a plane and discovered that flying was in her blood. It was calling to her and she was answering.
Just a year later she took her first flying lessons and less than a year later had saved enough money to buy her own plane (really tells you that times have changed). The life of one of the most famous aviator took off.
What started it all? The spirit of a young girl who would not let anything stand in her way was the driving force. What many would have considered wild behavior and even scandalous for the times turned out to be what was needed. She was different. She did step out of the norm. She did defy convention. She showed the world that women were not hindered by their sex. They could soar and then she showed them how.