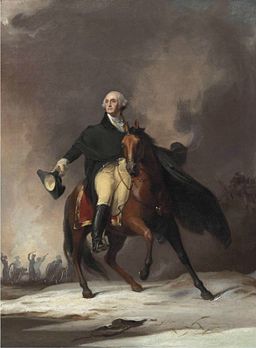 In 1793, George Washington, who led the colonists to victory over the British in the New World, accepted his second term of office as President of the United States of America. This would be his last term as he did not want this position that he was setting the precedent for to become a dictatorship or monarchy. By him having no more than two terms, following presidents followed this path until Franklin D. Roosevelt was elected to an historical fourth term.
President George Washington went down into American History as a Founding Father that was to be respected. He took a loose group of men who wanted to be treated fairly and turned them into a new country with so much potential. The United States of today has George Washington to thank for it.
The inaugural address of each president is given before they are sworn in as the next President. It is usually this this address that they are to communicate and reemphasize their promises for the next four years.
Here is the second inaugural address of the first President of the United States of America as took the oath of office to lead his new country through another adventurous four years.
Fellow Citizens:

I am again called upon by the voice of my country to execute the functions of its Chief Magistrate. When the occasion proper for it shall arrive, I shall endeavor to express the high sense I entertain of this distinguished honor, and of the confidence which has been reposed in me by the people of united America.

Previous to the execution of any official act of the President the Constitution requires an oath of office. This oath I am now about to take, and in your presence: That if it shall be found during my administration of the Government I have in any instance violated willingly or knowingly the injunctions thereof, I may (besides incurring constitutional punishment) be subject to the upbraidings of all who are now witnesses of the present solemn ceremony.
President George Washington
March 4, 1793
Philadelphia, Pennsylvania
*** Sign up for our weekly newsletter to learn of the latest articles, forum discussions, book clubs, and other history activities.***