Project Information: • Skill level: Basic • AdobeR PhotoshopR CS • General tips

Filling an entire layer or a selected section of a layer with a pattern is an easy and fast way to create backgrounds for scrapbooking pages, greeting cards and other projects. Photoshop CS makes it as easy as a couple of clicks. There are two methods you can use. Below are the instructions for both methods.

Method One

Step 1. You can fill an entire layer by clicking on that layer in the Layers palette. If you prefer to fill only part of the layer, select the area using one of the Marquee tools in the Toolbox.

Step 2. On the Menu bar click Edit > Fill to open the Fill dialog box.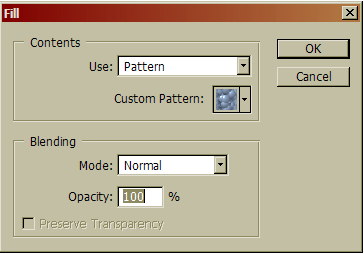 Fill Dialog Box


Step 3. Choose Pattern from the Contents/Use drop-down list. Click on the small arrow next to Custom Pattern.

Step 4. Select a pattern from the Pattern pop-up palette.


Pattern Pop-up Palette


Step 5. Click OK to fill the area with the pattern.

Next →



AdobeR product screen shot(s) reprinted with permission from Adobe Systems Incorporated. AdobeR, PhotoshopR and PhotoshopR AlbumTM are either registered trademarks or trademarks of Adobe Systems Incorporated in the United States and/or other countries.