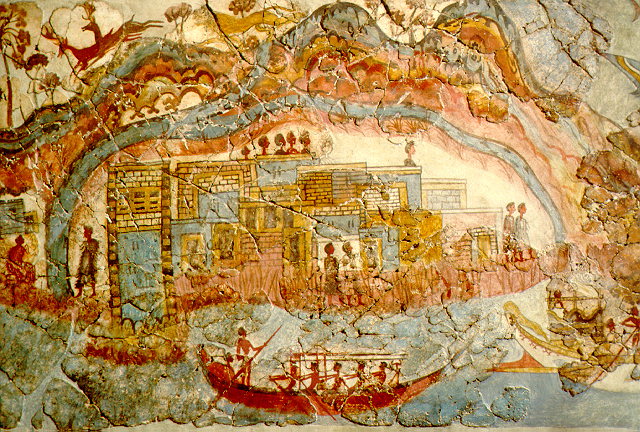 Where did the Greek civilization come from? The great civilization that gave us Aristotle and democracy had to come from somewhere. Where was the birthplace of Greece? We can look to the island of Crete and the Minoans for the beginnings of the great Greek civilization.
On the island of Crete, the Minoans rose up and created their own civilization based on trade. Their ships sailed throughout the Mediterranean and discovered treasures that could be traded and build up their own culture. A civilization that showed advancements in the use of metals and the arts has been discovered in the Minoans.
Their rich art was the basis for future Greek pieces. They helped establish Greek mythology. It was from the Minoans that we get the story of the Minotaur that ate the young men and women of Athens each year. Much of their artwork depicts bulls and other animals.
From the Minoan civilization we also have found tablets with writing on them that are slowly being deciphered. The archeological evidence shows a culture rich and thriving. So what happened to this great civilization? Were they conquered? Why did the Mycenaeans replace the Minoans and still carry many parts of their civilization forward into new generations?
Mother Nature has a way of disrupting history? Without her intervention how much of history could be completely rewritten. Due to a volcanic eruption at Thera tore the island of Crete apart. Many have said that this explosion was the largest ever in earth's history. It destroyed the Minoan civilization and rearranged that area of the Mediterranean. Buried under ash, the remains of the Minoans waited for archeologists to uncover them and discover the earliest Greeks.
Due to their extensive trading, the Mycenaeans had long respected the Minoans. After the Minoans fell victim to nature's wrath, the Mycenaeans took the architecture, art, trade practices, and overall culture to build another great empire that gave the world Greek heroes and myths. Their influence was so strong that even after their sudden disappearance in Greece, their art, myths, and practices continued for centuries.
It is from the Minoans that Classical Greece eventually emerged. It is from the Minoans that we are entertained with Greek mythology. It is from the Minoans that we have the birth of the Greek empire. In essence we can thank the Minoans for our very own culture that was so heavily influenced by the Greeks.
Want to know about future articles? Sign up for our newsletter and know about the latest forum postings and newest articles.