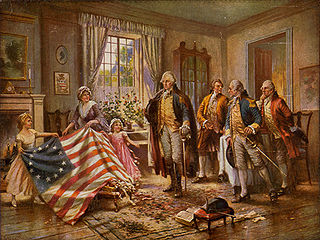 It was during the American Revolution that the leaders of the colonies and General George Washington saw the need to have a symbol of the thirteen colonies that would show the British that they were united and a unique entity of their own. The result was the Stars and Stripes that grace all our national buildings today.
History attributes Betsy Ross as the original maker of the American flag, though Washington and other men designed it after a failure of a previous design that was a little too English for many of the colonistsí tastes. Over the years the telling of that initial meeting has become murky with tradition and myth. Originally Washington wanted a six pointed star. Legend has it that Mrs. Ross said that it would be more efficient in cutting and making the star if it was just five pointed. Other than that change, supposedly the design has basically remained the same over the years. It is the design that tells a story within itself.
Without looking, what does the American flag look like? What are the colors? What geometrical shapes are included? Why does it look this way?
The American flag consists of red, white, and blue colors. Each color has its own representation. Red symbolizes courage and valor. It took that to fight their own motherland. It took that to risk their life and shed their blood so that their children could hold their heads high. White represents purity and trust. They rejected the dishonest dealings of a government and tried to establish a purer one. Blue stands for justice and vigilance. Justice is what they saw pass them by. With vigilance they took it back.
In addition to the colors, there are 13 stripes of alternating white and red. These represent the original 13 colonies who risked everything to stand on their own. It was these 13 that should never be forgotten as history marches on: Georgia, North Carolina, South Carolina, Virginia, Maryland, Pennsylvania, Connecticut, New Hampshire, Massachusetts, Vermont, Delaware, New Jersey, New York.
The stars that grace the blue field of valor are the only thing that has changed over the years. With each new state admitted into the Union, one new star has been added to the flag. You could say, that history can be told just with those stars.
All government buildings and vehicles have to fly Stars and Stripes. It can be found over embassies, courthouses, battleships, and emblazoned on aircraft. A brand new flag is flown everyday over the nationís capital. It covers the coffins of the fallen. It flaps in the breeze at half-mast in mourning. It is the symbol of a young nation forged through blood and determination.