As you know, I love these artist cards because they can boost your creativity just by looking at them, and certainly by making them you can be inspired to make more of them, or to use spin-off ideas for different forms of creativity.
This time, though, I decided to make an art card that is directly concerned with creativity in the form of a quote – which led me on to think I'd then make a series of them.
For the first one I used a 2.5 x 3.5 inch piece of watercolor paper as the base, a leaf skeleton, an old stamp, a piece of blue marbled paper, a little piece of printed music, some thin red card, wrapping paper, those gold ring things, white glue, watercolor pencils, gold fabric paint and a leaf punch and a fish punch. You could substitute other materials for any of these.
The quote I'm using is, "Creative minds are rarely tidy" which rang a bell with me. A big bell. Looking around my desk I realized I couldn't see the wood it was made from, so I thought I'd use some of the things on it for this art card.
I started by using yellow, dark pink and orange watercolor pencils to give the base a frame:
Then I stuck on the leaf skeleton:
Then I got together the bits I was going to use for the quote itself:
That is – a small piece of printed music, an old stamp from 1977 – a heads of government meeting – which appealed to me to put the word 'mind' on (hopefully it was a meeting of minds…), a leaf made from thin red card and a suitably shaped punch, which I outlined with gold fabric paint, and a small piece of blue marbled paper. I'd already played about with these on my art card to see where they'd go, which is why there are no words on two of the bits because I had to put them on after I'd stuck them down in case I got the word in the wrong place.
I stuck the four pieces on the card and wrote the other words on. Note that a lot of the materials overlap the card. This is partly because it looks better trimmed down to size, and partly because if everything fits neatly inside a border it can look too stiffly arranged.
I then finished it off with different sizes of gold rings (bottom left) – I'm not sure what they are. I found them in one of my 'bits' drawers. The fish (top right) are where I've punched out the fish, but used the negative space left behind rather than the fish itself. Negative spaces are often more effective. The gold fabric paint represents air bubbles. And then I couldn't resist giving the lowest fish an eye and smile.
Here's the finished card: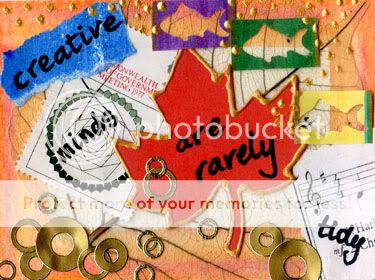 I was hoping that the overall effect of the art card would reflect the meaning of the quote. Yes, I think the art card doesn't look too tidy!!!
You can vary everything about this card. Have a go!
Creatively yours
Susan
This is my shop on Etsy where I've put this card
This is my main shop on Etsy where I put all my dog and cat artwork