You can either use a new bar of soap in it or you can put those small pieces of soap that are left over and often to small to use in it. If you don't use bar soap it will work just as well for liquid soap.
6+
You will need:
-Needle
-Thread
-1 sheet of felt
-Scissors
Optional:
-Yarn
Cut two pieces of felt 1½ inches wide 5 inches long, two pieces of felt 1½ inches wide and 4 inches long and two pieces of felt 4 inches wide and 5 inches long.
You are going to want to lay the 4 inch by 5 inch and 1½ inch by 5 inch sections next to each other, alternating the two sizes. Make sure that the 5 inch sides are laying running parallel to each other.
Thread the needles with about 18 inches of string knotting the end securely.
You are going to want to use an overcast stitch. To create an overcast stitch you will lay the first two pieces of felt so that the edges are together and even. Starting about an 1/8 of an inch from the edge on one end pull the needle and thread through one side (side A) of the fabric and out the other (side B). Then wrap the yarn over the edge and again pull the thread through side A and out side B. Make sure the stitches are no more then 1/4 inch apart. When done correctly this stitch resembles the binding of a spiral notebook. Making sure the stitches are all on the same side repeat until you have sewn all four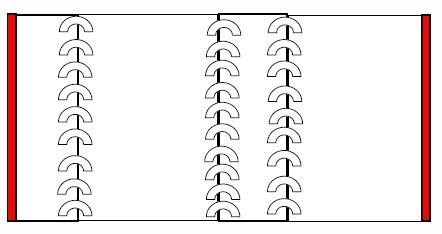 pieces of felt together.
You should have a piece that resembles the picture to the right.
Take and sew the ends (highlighted in red) together using the same overcast stitch. You will now have a box shape with both ends open. Take one of the remaining pieces and sew it to one of the open sides using the overcast stitch all the way around. Repeat on the open end with the remaining piece leaving one side unsown.
If you want to add a string to hang the soap bag by use the stitch above take a 12 inch piece of yarn and sew one end on one side and the other end on the other side.
Yes, you can sew this on a sewing machine if you have one available.
Take your bag and turn it inside out, insert soap and use.