Chocolate and peppermint go well together, and they are wildly popular flavors during the holidays. Most of us are so busy decorating, shopping, and cooking for holiday parties, we have little time for special desserts. However, the following
Slow Cooker Peppermint Pudding
can be put together in about 10 minutes. It cooks in the slow cooker, so there's no hands-on time until serving when it's simply spooned into bowls and topped with real (no frozen garbage please) whipped cream or ice cream.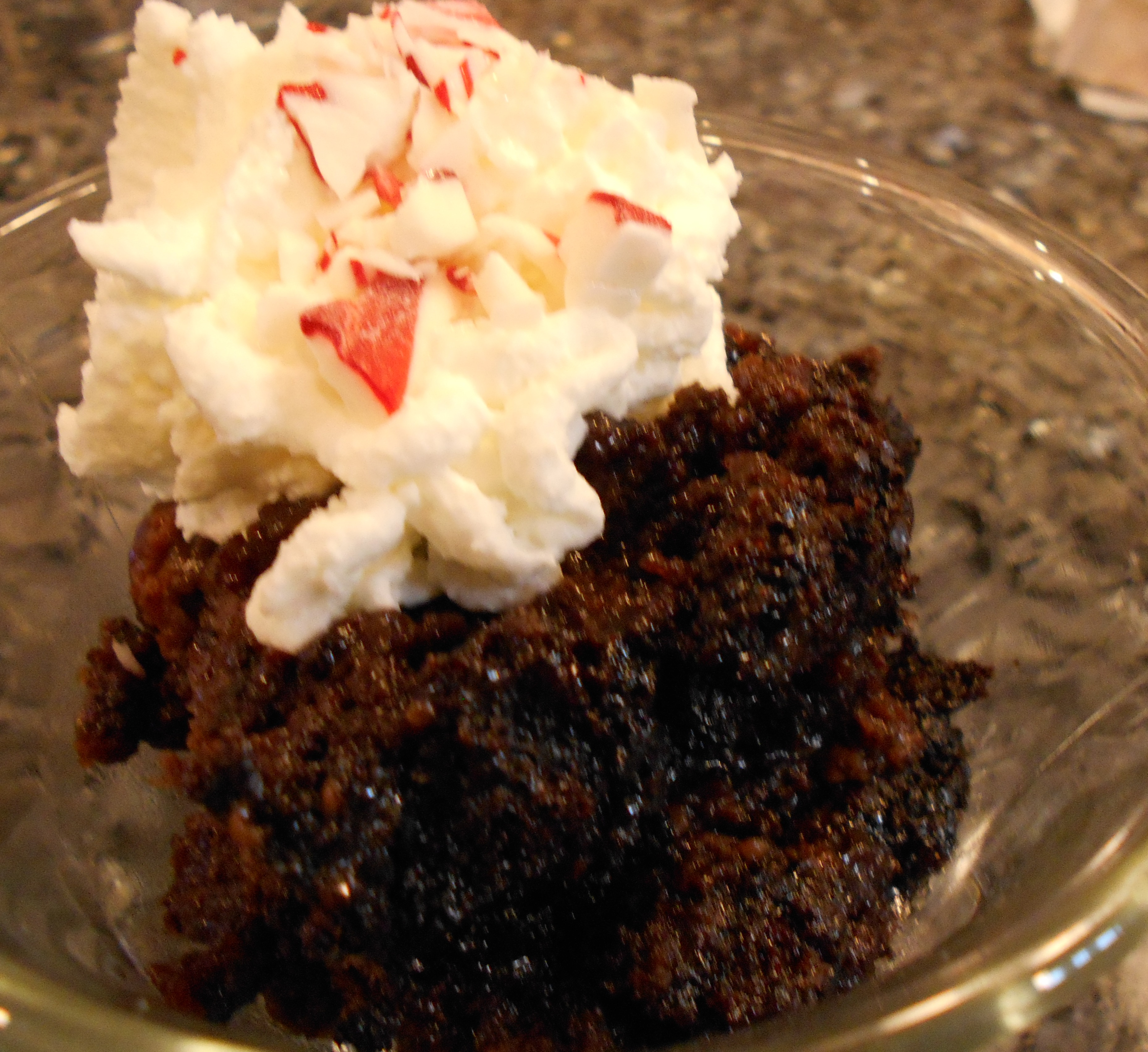 You can use any kind of chocolate snack cakes – cupcakes, mini chocolate donuts, Ding Dongs, Ho Ho's, etc. If you happen to have some that have gone stale, go ahead and use them; the custard will moisten them up and no one will ever know. In fact, no one will ever know that this moist decadent pudding isn't made from scratch.
This is great for a trim-the-tree party or can be taken to a pot luck gathering. It stays warm in the slow cooker for several hours if necessary, but is also good served at room temperature.
12 Servings
10 Chocolate Snack Cakes with Creamy Filling, such as Hostess Ding Dongs, cupcakes, etc.
1 cup coarsely crushed peppermint candies
2 cups milk
1/4 cup unsweetened cocoa powder
1/4 cup sugar
5 eggs
Spray a 3-4 quart slow cooker with non-stick spray.
Quarter the snack cakes and place half in the crock of the slow cooker; sprinkle with half of the peppermint candies.
Top with the remaining snack cakes and peppermint candies.
Mix the milk, cocoa powder, sugar, and eggs - I like to use a blender, but whisking will do just fine.
Pour the mixture over the snack cakes. Cover, set the slow cooker to high, and cook one hour. Turn the slow cooker to low and continue cooking until the center is set, 3-6 hours. Serve warm with real whipped cream or ice cream.
Amount Per Serving
Calories 218 Calories from Fat 97
Percent Total Calories From: Fat 44% Protein 9% Carb. 46%
Nutrient Amount per Serving
Total Fat 11 g
Saturated Fat 7 g
Cholesterol 96 mg
Sodium 180 mg
Total Carbohydrate 25 g
Dietary Fiber 1 g
Sugars 18 g
Protein 5 g
Vitamin A 4% Vitamin C 1% Calcium 0% Iron 3%