The Make One Left, abbreviated M1L, is a fairly invisible knitted increase that uses the ladder rung or strand in between two knit stiches. This increase will be left slanting. If you need to mirror a right slanting increase to maintain symmetry in your project, you can use a Make One Left increase. It can also be used for shaping or creating a bias slant in your knitting project.
The slanted Make One increases are used in many different garment projects. They are some of the most commonly called for increases in written patterns today. The Make One Left is the perfect mirror stitch of the Make One Right. If you need to know how to knit the mirror increase, check the related links below. When matched or mirrored, these slanted increase can give a proper slanting flare when part of your knitting project widens. Examples of times when you may use these slanted increases are the increasing in sleeves, gloves for shaping and proper fit, or up around the calf area in knees socks.
Using the proper increase when your pattern or project dictates that you will need to use a left slanted increase will give the most professional looking result. Donít be tempted to skip and use just any old increase. You will be much happier with the correct slant in the work where you have increased.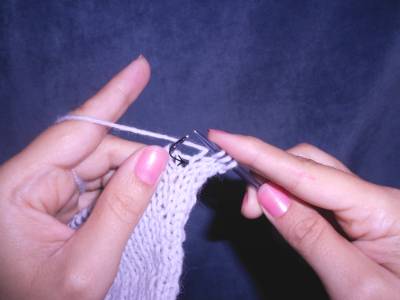 Step 1
Very gently pull your two hands apart slightly to expose the strand between the two stitches where you would like to make your increase. Now insert the left needle tip under the strand from the front.
Step 2
The strand on the needles should look like the one in the picture at the beginning of this step. Now insert the right needle tip into the back of the loop. By putting the needle tip in the back of the loop, you twist the loop into a new stitch.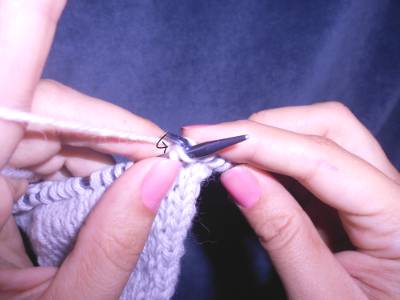 Step 3
with your needle tip inserted into the loop, you are now ready to wrap the yarn around the needle.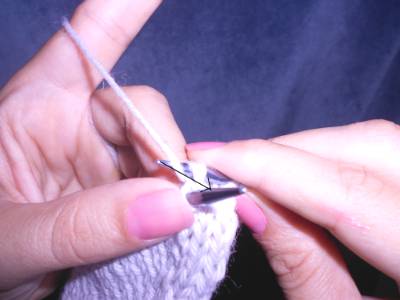 Step 4
You are almost there! Once you have the right needle tip looping the yarn, you simply need to pull it through your new stitch!
Step 5
all that you still need to do is to transfer your newly created right slanted stitch onto the right needle. Withdraw the left needle tip, and slightly tip the right needle.
If you are knitting this stitch into a pattern you are working on, and you are new to it or havenít knitted it in awhile, practice this increase with some waste yarn. Practicing this stitch before you knit it into your project will help you to do a smooth and well tensioned increase in your project.