The brainchild of a Tibetan Buddhist Mum from Australia, Tara Parenting is a new and growing website for Buddhist parents especially those in the Tibetan Tradition. It is currently being moved to this web address from a blog style to an easy to read and navigate website.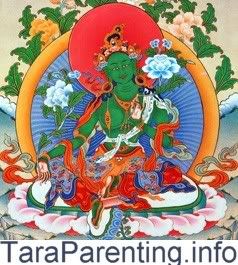 The site has articles covering everything from practices you can do with your children to a forum to discuss the everyday parenting and life issues as they come up. By pulling together links to article and resources from around the web and having original articles, visitors can find relevant information for almost every situation. When you create a free and safe account you can submit your favorite Buddhist sites to share in the Links section.
Iíve seen several other Buddhist parenting forums that were extremely difficult to navigate and the thread I wanted to read was next to impossible to get to, not so at the Tara Parenting forum. The forum is easy to join and to navigate and it has areas to discuss everything from teaching and Meditating with children to discipline to sustainable living.
This is a great site for Buddhist parents and non-Buddhist parents. The underlying theme is compassionate parenting, something that is not exclusive to Buddhism. Articles discuss issues relevant to people of all faiths such as Dealing with Anger and helping children learn and understand about change or Impermanence.
Tara Parenting is a Parents haven online. Be sure to check back often as the site is updated with new information often.
Tara Parenting Pages A Resource page for Buddhist Parents
Tara Parenting Forum