On the streets, in the doorways and inside the houses, the traditional posada song is being sung as the revellers representing Mary and Joseph request admittance to the inn or "posada", while the innkeeper group within tries to keep them out and send them away. It is all tremendous fun, raucous and jolly, and the street cooks and vendors do a roaring trade. Mugs of hot chocolate are downed and "buñuelos", a fabulously crisp sweet fritter, are one of the most popular treats during the festive season. As they are cooked, they are drained on paper – often just newspaper on the street! – and then piled up in large baskets. They can measure anything from a very manageable 15 cm to 30 or 40 cm, which can be quite comical to consume with dignity. If they are being eaten hot, they are simply sprinkled with cinnamon sugar. If they are being served at room temperature however, a fragrant aniseed-flavoured syrup of the typical Mexican "piloncillo" or dark unrefined sugar is drizzled over them, making them rather messy as getting them safely into one's mouth without the syrup dribbling down one's chin is quite a test!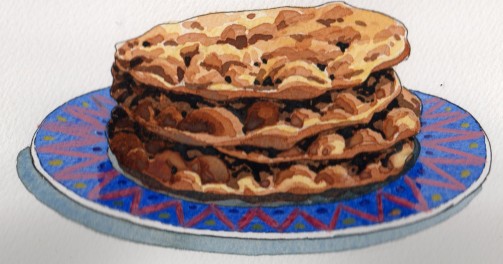 Buñuelos © Philip Hood
Buñuelos are made of wheat flour as well as fried and are therefore very much a post-Hispanic contribution to Mexican cuisine, as both the flour and the cooking method were Spanish imports - and the fritters themselves were probably originally introduced to Mexico by the nuns in the many Spanish convents. Rich, tasty lard would have been the initial frying medium and is still very traditional, and I have to say that having experimented with it, the resulting buñuelos do have a very unique and far from unpleasant taste. Different flavourings are often incorporated into the pastry – citrus and some kind of alcohol for instance (I like a tot of rum!), and some regions shape their buñuelos differently (the Veracruzano is made into a ring) but the flat pancake is the most common.
The trick to a really successful, crunchy buñuelo is to roll it out very thinly indeed, which is not easy. If you have a "tortillera", a tortilla press, flattening a ball of dough in it between two sheets of clingfilm/plastic wrap works very well as a first step. Then a rolling pin is needed to make the disc almost paper thin. The challenge is then getting the raw buñuelo off the clingfilm without tearing it – patience, care and well-floured fingers are essential! Alternatively, dust the work surface with plenty of flour or icing/confectioner's sugar and roll the dough as you would for normal pastry. And if your buñuelo tears, it really doesn't matter and it will fry equally well with a few holes in it.
Makes 12 buñuelos
For the buñuelos:
500 g/18 oz plain/all purpose flour
5 ml/1 tsp baking powder
5 ml/1 tsp salt
15 ml/1 tbsp caster/super fine sugar
25 g/1oz cold unsalted butter, diced
4 eggs, lightly beaten
60 ml/2 fl oz/1/4 cup water
5 ml/1 tsp dark rum (optional)
Vegetable oil for frying
For the syrup:-
750 ml/24 fl oz/3 cups water
500 g/18 oz piloncillo or molasses sugar
1 large orange, well scrubbed, zest peeled in strips with a vegetable peeler, and juiced
15 ml/1 tbsp fennel seeds
2 cinnamon sticks, about 7 to 8 cm/2 1/4 to 2 1/2 in long
For the cinnamon sugar:-
25 g/1 oz caster/super fine sugar
5 ml/1 tsp ground cinnamon
Process the flour, baking powder, salt and sugar in a food processor until the mixture resembles fine crumbs. Stir the water and rum into the eggs. With the motor running, slowly pour the liquids into the flour and process just until it all comes together. Turn the pastry out onto the work surface and knead lightly with the heel of your hand until smooth. Transfer the dough to a greased bowl, cover with cling film/plastic wrap and set aside to rest for 30 minutes.
For the syrup, bring the water to the boil in a large saucepan and stir in the piloncillo, orange juice and zest, fennel seeds and cinnamon. Leave to simmer, stirring occasionally, for 15 minutes. Set aside to cool then strain.
Divide the dough into 12 pieces – they will weigh about 75 g/3 oz each – and roll them into a ball. Place one between two sheets of cling film in a tortilla press and flatten. Remove from the press and roll out with a rolling pin, still in the cling film, as thinly as possible; then using the heel of your hand, push from the centre outwards to flatten the pancake even more.
Heat about 3 cm/1 1/4 in of vegetable oil in a large frying pan until it shimmers. Throw in a tiny piece of pastry and if it starts to sizzle immediately, the oil is hot enough. Carefully peel off one side of the cling film from a pancake and turn it, dough side down, onto a plate dusted with flour. Dust your fingers well with more flour and carefully peel off the second piece of cling film – it is not difficult, so long as you do not rush it. Place the pancake in the oil and fry for about 1 minute on each side, spooning the hot oil over it, until it is golden and puffy. Remove to a baking tray lined with kitchen paper and keep warm in a very low oven if you are intending to serve the buñuelos hot. Cook the remaining pancakes in the same way.
If you are using the cinnamon sugar, mix the caster sugar and cinnamon in a bowl and, using a sieve, dust the warm buñuelos lightly with it.
Serve immediately.
Alternatively, allow the buñuelos to cool and drizzle them generously with syrup before serving.
| | |
| --- | --- |
| Chilli and Chocolate Stars of the Mexican Cocina by Isabel Hood is available from Amazon.co.uk | Just The Two of Us Entertaining Each Other by Isabel Hood is available from Amazon.com and Amazon.co.uk |