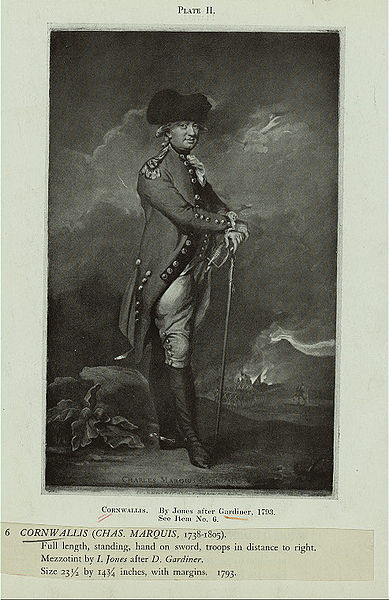 Born on December 31, 1738, Lord Cornwallis entered the world not knowing how much his name would be mentioned throughout history, especially American history. He is known for being the British commander who had to surrender to the American forces at Yorktown. What has been missed throughout history is how much he sympathized with the colonists and his career after his surrender. His leadership skills have been ignored and the honor he wore has been sorely brushed aside.
Not everyone in jolly old England agreed with how King George was dealing with the colonists in the New World. Lord Cornwallis was one of many who protested about the high taxation and heavy-handed responses. Where he drew the line was right out rebellion. Though still disagreeing with the way things were managed, Cornwallis supported England in suppressing the colonists' revolt.
Cornwallis was not leading the British throughout the revolution. In fact, he did not arrive until two years after the conflict started. His experience in the Seven Year's War eventually had him assigned to the colonies, but not as lead commander. He served under Howe and Clinton who were both criticized by Cornwallis. He did not feel that they were aggressive enough in ending the conflict. He was so disgusted with it that he resigned his position. This resignation was declined, and he was required to stay in the service.
It was not long after his attempt to leave the service that Cornwallis was pushed back to Yorktown. For the British, this might not have been a bad thing as reinforcements were imminent. What Cornwallis was to discover was that all his reinforcements had been intercepted by the French. He could commit suicide with his soldiers by continuing the fight, or he could surrender. The thought of surrendering was beyond anything Cornwallis could handle. He sent his second in command in his place to surrender his sword.
This humiliating act in August 1781 very possibly could have been Cornwallis' last military and political act. Surprisingly, it was not. He was appointed the Governor General of India in 1786 where he made massive reforms that benefited both Britain and India. The Crown was so impressed that in 1792 he was no longer Lord Cornwallis but was now Marquis Cornwallis.
In 1798, Cornwallis was redirected to the Ireland where he was made commander in chief. Everyone was pleased with his work which ended in 1805 when he resigned his post. He was still standing up for those that needed support. In this case, the Catholics were not guaranteed political rights by the Crown. Cornwallis found this unacceptable after all the work he had done to smooth over Catholic and Protestant relations. He chose to walk away. He returned to India as the Governor, but died in the same year.
Lord – Marquis Cornwallis is sadly remembered only for his surrender at Yorktown. Too often, this has been the event in his career that has been made fun of and enhanced. What gets missed is the heart he had for those that were suppressed or were not always getting the fair end of the deal. He fought for the colonists' rights. He fought for rights in India. He fought for Catholic rights in Ireland. He believed in quality and was not so career-focused that he would step on anyone to get there.
We need to rethink Cornwallis and what kind of man we see him as. He was one that had honor and ethics. He was a leader that should be looked up to today by our leaders. Here was a man who knew what was important.
*** Sign up for our weekly newsletter to learn of the latest articles, forum discussions, book clubs, and other history activities.***