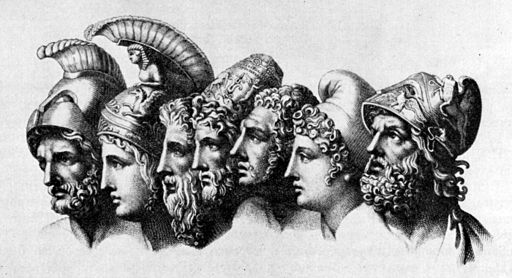 Homer, in The Iliad, was clearly writing of a time prior to the Dark Ages. It was during the Mycenaean period that sea travel was huge and the areas were growing. The Dark Ages were a time where much of the advances died or decreased compared to the former glory of the Bronze Age.
The development of iron did not occur until the Dark Ages. If Homer was describing a time when iron was fully implemented, then why does he have the armies hurling stones during the war and not using more iron weapons? He even describes the great King Agamemnon in bronze armor. No king of Mycenae would go into such a crucial battle with bronze if he had iron at his disposal to protect him. The description of the weapons and warfare gear leads a reader to imagine a period before the Dark Ages.
The city-states were developed in the Dark Ages partly because of the depopulation and low amount of food. Reading The Iliad, the reader does not imagine a shortage of people. In fact, Homer lists the various army units, who commanded them, and where they came from. Homer is depicting many civilizations from all over the Mediterranean coming to fight against Troy. This does not bring to mind a time where there were less people and less interaction among the various cultures. This depicts civilizations thriving and flexing their muscles. We do not see such evidence in the Dark Ages that would lead us to see this as a Dark Age story.
Homer might bring in some things that reflect the Dark Ages, but the more you read his epics, the more you learn of Ancient Greece, the more you settle on Homer setting his stories during the Mycenaean period.
Sources:
Jackson J. Spielvogel, Western Civilization (Boston: Wadsworth, 2009).
Homer, The Iliad, trans. W.H.D. Rouse (New York: Signet Classics, 2007).
*** Sign up for our weekly newsletter to learn of the latest articles, forum discussions, book clubs, and other history activities.***
The Latest in History Here
Quiz -
Check out our Quiz on Ancient Civilizations. Discover how much you really know about our ancestors. - http://www.bellaonline.com/misc/quiz/quizdtl421
Ebook -
We have a new ebook that you might be interested of. It is a 55 page book on everything you need to know about historical research papers and 400 research paper topics for Ancient Civilizations. This could be really helpful if you are a history student. - http://www.bellaonline.com/ebooks/ebook183