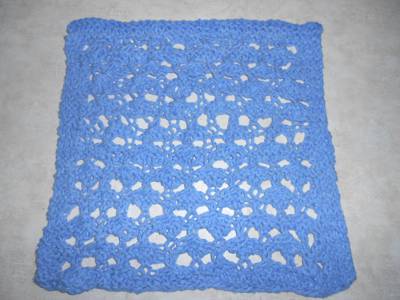 This washcloth pattern has a shell lace design that offers a little bit of a challenge while being a small enough project to keep from being overwhelmed. The shells are formed by slipping two stitches, then purling three stitches together and passing the slipped stitches back over the decrease. The lace pattern provides texture for cleaning, while the cotton yarn keeps the washcloth gentle enough for your skin or your non-stick cookware
The garter stitch border is knit right along with the main pattern. The pattern is actually knit wrong side facing front, although both sides are attractive.
Worsted weight cotton yarn is available at most large craft retailers and also at many smaller local yarn stores. Several colors and prints are available to help you coordinate to décor or personal taste.
Size:
10 inches square,
Materials:
2 ozs or more of 100% cotton worsted weight yarn . a 2 ozs ball of Sugar-n-Cream yarn was used for the example.
Recommended Needles:
Size 5, or the size you need for the proper gauge.
Recommended Gauge:
4 stitches and 6 rows per inch in stockinette stitc
Abbreviations:
CO – the number of stitches to cast on and begin with.
K – Knit
yo – yarn over
sl 2 wyif –slip two stitches holding yarn in front
p3tog – purl 3 stitches together
p2sso – pass the 2 slipped stitches back over
p-purl
BO – bind off
Pattern Instructions
CO 42
Knit each row , 4 rows
Row 5: K3,*(yo) twice, sl 2 wyif, p3tog, p2sso, (yo) twice, p1; rep from *. Repeat five more times, total of 6 pattern repeats. K3 remaining stitches, turn
Row 6 K4 * (k1, p1) into double yo, k1, (p1, K1) into the next double yo, k1*: repeat asterisks 5 more times, total of 6 times, k2 turn
Row 7 K
Row 8 K
Row 9 K2, P3tog, *(yo) twice, p1 (yo) twice, sl 2 wyif, p3 tog, p2sso* rep from * 4 more times, end (yo) twice, p1, (yo) twice, p3tog, k3 turn
Row 10 k4 * (p1, k1) into double yo, K1, (k1,p1) into next double yo, k1; repeat * 5more times, total 6 times, K3
Row 11 K
Row 12 K
Repeat rows 5-12 4 more times, total of 5 pattern repeats.
Repeat rows 5-9
K4 more rows, garter stitch, BO. Weave in ends, block if desired.