You may have never heard of a Zantedeschia, but maybe you have heard of the Calla Lily, a type of Zantedeschia. Calla Lilies are not really lilies, but Arums. Regardless, Calla Lilies are beautiful, sophisticated looking flowers found frequently in wedding bouquets and occasionally in funeral arrangements. Calla Lilies can be found in many combinations of red, pink, white, yellow, orange, purple and nearly black.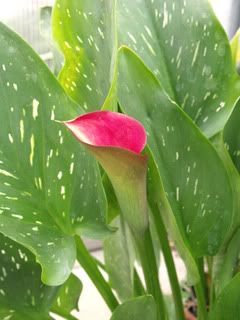 Calla Lilies do well with lots of sun; when growing them indoors, it is unlikely that you can provide too much of it. In the northern hemisphere, a southern window is best. If you live near to the equator, you may want to provide some protection at midday, especially during the summer months, by way of a sheer curtain or other such mechanism. In the far north, a southern window is good any time of year without a shade.
In their native environment, Calla Lilies live in bogs where they sit in water and are mainly aquatic plants. When grown in a pot as a houseplant, you cannot simply water them as if they didnít need some air: their requirements change a bit. Plant your Calla Lily in a freely-draining soil that retains moisture pretty well. You want your roots to stay consistently moist, but you do not want your rhizomatous tubers to turn to mush, either. Fertilize with a liquid fertilizer at every other watering. Flushing the pot with clear water once a month will help eliminate any fertilizer salts that might accumulate.
The easiest way to propagate Calla Lilies is from offsets. Divide the shoots when you are repotting. Some varieties can be propagated from seed, but it takes a long time and is usually not worth the effort.
Calla Lilies need a time to rest themselves in between blooms. It is possible to keep the plant growing fairly indefinitely, but follow the cues your plant gives you. If the leaves start to die back and the plant begins to look thin, it is likely time for a rest. Eliminate fertilizer from your routine and cut back on watering. Allow the tubers to remain in the pot and allow the potting mix to become very dry, only providing a small amount of clear water every few weeks too keep them from drying out completely. Resume watering after about three months, when you see new growth beginning to appear, or when spring returns. It is hard to say how long your tubers will rest, if at all: simply observe and respond.