Once you have become familiar with the Continental Knit Stitch, it is time to get to know the Continental Purl Stitch. Like the Continental Knit stitch, this purl stitch has fewer movements than the English style purl stitch. The main difference between Continental and English style knitting is which hand the yarn is held in. Continental knitting holds the yarn in the left hand, while in English style knitting you hold the yarn in your right hand.
Creating the purl stitch is very similar to creating the knit stitch. The difference with purling is that you begin with the yarn in front, and then pull it back into the previous stitch. If that doesn't make sense yet, keep reading and follow the pictures in this tutorial.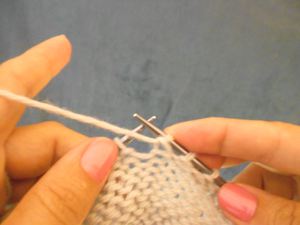 Step 1
Begin by holding your knitting as shown in this picture. Notice that the yarn that you are about to use is in front of the work.. As with the continental knit stich, the yarn goes over the left index finger, and is woven through the other fingers to maintain gauge. The left hand second finger and thumb grasp the left knitting needle. The right hand holds the right needle, with the thumb and right second finger holding the needle. The right index finger is extended parallel to the right needle, in order to stabilize the knitting.
Step 2
Insert the tip of the right needle into the back of the first stitch on the left needle. You will then grab the yarn with the tip of the right needle, as the arrow is showing.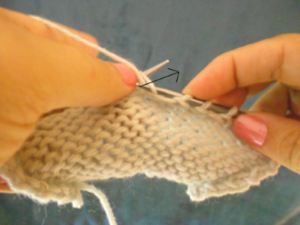 Step 3
At the beginning of this step, your knitting should look like this picture. You will now pull the yarn back through the loop as the arrow is showing in the picture.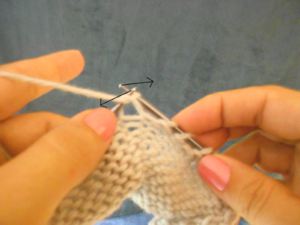 Step 4
You have made your purl stitch, now it is time to slide it over onto the right needle. Do this by tipping the right needle tip up slightly and pulling the left needle tip out to gently remove the new stitch from the left needle.
Your purl stitch is now on your right hand needle. You are ready for the next stitch!
You may hear knitters complain about purling – it really isn't any more difficult than the knit stitch, and the purl stitch alone doesn't take any more time than the knit stitch. You can combine knit and purl stiches for all kinds of effects. If you knit one row, then purl back after turning, you will create stockinette fabric. Stockinette looks like all knit stitches from one side, or all purls from the other. Combining knit and purl stitches within a row can create wonderful textured patterns, where some of the stitches appear raised up on the fabric.