There are knitting books on nearly every topic, and in the last few years with the resurgence of knitting as an art or pastime, even more books are coming out. When I searched Amazon for knitting in books, they returned over 11,000 books, when I restricted the search to Craft & hobbies-Knitting, nearly 3,000 books came back. With so many choices a knitter can be choosy about the books they borrow and buy. The reviews here, as always, will state whether I feel these books should be added to your library or not.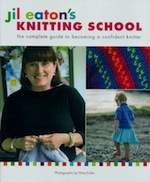 Jil Eaton's
Knitting School-The complete guide to becoming a confident knitter
is a step-by-step approach to learning to knit. The first section talks about materials and supplies you will need. Then the actual knitting starts, the book has 19 different lessons and a project to go along with the lesson. If the technique is something you are not interested in it is quite easy to skip that one and move on to the next, but naturally some of them build on one another and can't be skipped. The pictures and illustrations are clear and well thought out. I would recommend this book only if you do not already have a beginning technique book, there is not a lot of new information here. In the case of those who have tried knitting with some of the other books available I'd suggest if you have a library nearby with a copy, check it out first before deciding to add it to your collection.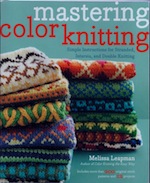 Melissa Leapman's
Mastering Color Knitting-Simple Instructions for Stranded, Intarsia, and Double Knitting
is also a book for those learning new techniques. Each section covers one technique, first with a detailed description of the process involved, then a great section of patterns that use the technique, and finally projects that give the knitter practice working with the technique. Again, the patterns, pictures and illustrations are quite clear, as well as the tips Ms. Leapman includes to help you become accomplished. This book definitely covers the techniques involved quite well, but again, if you already have books on these techniques you don't need this one. That said, this one has three in one, so if you don't have books that cover these topics, it is a good one to add.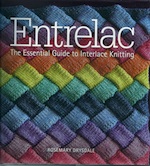 Finally, Rosemary Drysdale's
Entrelac-The Essential Guide to Interlace Knitting
is a primer in Entrelac knitting. The book starts with the basics and the instruction that states once this is mastered it is the building block of the rest of the entrelac techniques in the book. Ms. Drysdale also includes a lesson on knitting backwards, which greatly aids the knitter in learning entrelac, since one of the most cumbersome things about entrelac is that you have to constantly turn your work. I will now confess that I have never knit any entrelac, nor have I ever been tempted, it is a technique whose appeal was never obvious to me. Reading through this book has given me a much greater interest in it, but I'm not sure that much new ground has been covered. Again, before purchasing, page through this book first and make sure you are interested in the technique before you add it to your collection.
Disclosure: Review copies of thes books were provided by the publishers.
Buy Jil Eaton's Knitting School: The Complete Guide to Becoming a Confident Knitter
Buy Mastering Color Knitting: Simple Instructions for Stranded, Intarsia, and Double Knitting
Buy Entrelac: The Essential Guide to Interlace Knitting