Guest Author - Elizabeth Darrach
Hello, and welcome back! I hope you´re all drying out from last week´s soggy weather and that you took the opportunity to enjoy at least one new romance while you were trapped indoors.
We may take for granted that romances are truly moving tales, touching our emotions for as long as it takes us to read the book. But what do you do when you literally have to move your collection of books? I´ve spoken to people who have actual card catalogs of all their books--descriptions of the plot as well as when they read the book, what they thought of it, etc--and pack accordingly. There are other readers who have so many that once they´ve read a book it goes into a box for storage. That would certainly make moving easy. Most of us, however, keep our books on overcrowded bookshelves.


Now that you´re wondering about the title of the article, I´ll let you know that my move is mostly complete right now, including my ever-growing book collection--just ask my husband. Just a hint for anyone who has a move in their future: paper grocery bags are the perfect size for packing paperback books, plus they´re not too heavy to lift. Handled ones are even better.


And, in between all the frantic packing and the bruising lugging of boxes and furniture and unpacking, I somehow managed to squeeze in time to read a couple of new books. The first is by Amelia Grey, aka Gloria Dale Skinner, in her Regency historical debut,

Never a Bride (Jove Historical), a moving book in its own right. Mirabella Whittington is on a manhunt, and not for a husband. Polite society frowns on her recent behavior, and her suddenly-reappeared fiance is much less thrilled about it. Mirabella has a friend to avenge, and even when she begins to have feelings for Camden Stonehurst, her fiance, she can´t let go of her mission. Camden has a few secrets of his own to deal with as well, but this couple will make you cheer for them to reach their happy ending. I´m giving it three of Cupid´s five arrows.


If you´re a fan of Lynn Kurland and want to enjoy some of her previously published novellas all in one go, you´ll want to pick up her new book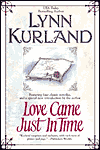 Love Came Just in Time (Berkley), which has collected four of her stories, many related to some of her historical and time travel novels. While I´d read most of them--including one I reviewed here last year--there was one I hadn´t read in an anthology previously.


And until next week, happy reading!