May I Introduce..... Helen White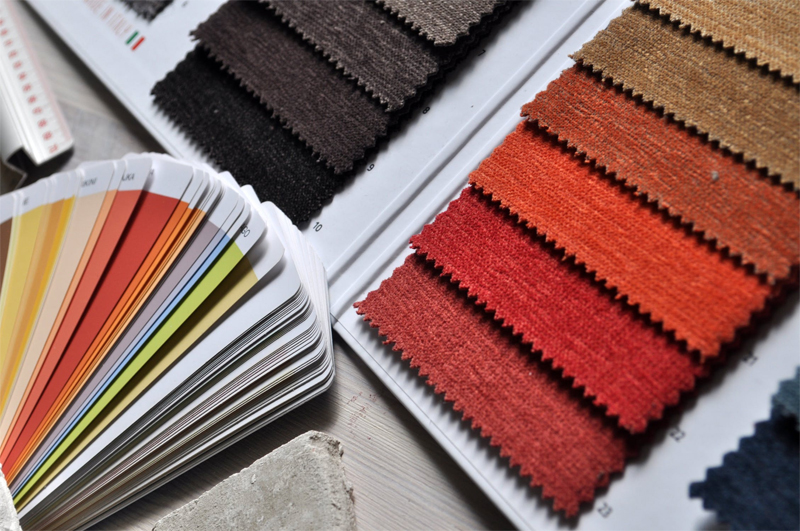 May I introduce…… Helen White. I met Helen recently at the Quilt Norfolk week in 2010. Helen and I hit it off right away and have recognized in each other a similar approach to our creativity. I hope you enjoy our chat.
Welcome Helen to the Bellaonline Quilt website. It's lovely to have you're here with us. I've got lots of questions, so I'll get the ball rolling with the first question. How and when did you become interested in quilting?
I was at Norfolk Island in May, 1998 with my friends enjoying a week of line-dancing, and we happened upon a Quilt Exhibition being held in Government House. I was so impressed with the display, but it took me another 12 months to get up the courage to join our local group and start learning all I could.
What other crafts to you like to dabble in?
My first love is really embroidery, but of course it is very slow, so I like to incorporate the two techniques in most of my works. I usually like to spend my days either creating some new design, cutting out or stitching. Then, the nights are spent with my embroidery. It is so relaxing and creative. I don't usually follow a pattern exactly, but just put my own ideas into each piece. I don't really have time for any other crafts as I spend my time either teaching or creating new designs. I have a small group of ladies who get together at my home each week and they continually encourage me to come up with a new design for them to learn, so I am constantly thinking about what to teach next.
What is it that attracts you to quilting and fabric crafts in general?
I love the fabrics we are able to purchase and they almost say "buy me, buy me", which of course I do. My favorites are the brights, but I also love blue/yellow and pink/green combinations.
How did you learn the basics of quilting?
I joined our local group, Coffs Quilters & Needlecraft Inc and entered any workshops that were on offer. We have also had some "outside Tutors" come and visit for a day, so I have always taken advantage of these classes. I have been to a few "outside" workshops, including "Creative By the Sea" and "Misty Mountains Retreat", where I have learnt several different techniques. I have also had the privilege of teaching at "Creative By the Sea" over three years. That also encouraged me to learn as much as possible, plus I learnt a lot from the students I taught! Also, I like to attend the Sydney and Brisbane Quilt Shows and sit in on the talks given by different stallholders – they are very informative. My mind becomes like a sponge and I just absorb whatever I can.
What are you working on right now?
I have just finished a quilt for a lady who follows the Sydney football club, "West Tigers", so I had to go completely out of my "comfort zone" by using orange and black. I designed the quilt, using one of my "Quilt As You Go" techniques, and I am very pleased with the result. The quilt is reversible. To begin with, I purchased a pair of men's satin pajamas, with the "Tigers" emblem on the front. I unpicked them and cut the logo out to the required size. Then I used that as the centre block and placed the others around it – the results were very pleasing. I have also just finished the quilt for this year's raffle at our Exhibition. So now I feel I should get out one of my UFO's and finish it off!!
If you had to choose a favorite piece you have made what would it be?
My favorite quilt is "Bluebirds Singing", which started off as the "Bluebird of Hope" (block of the month). I then decided to use soft colors and I changed a lot of the blocks and drew my own patterns. It is a combination of needle turn appliqué, embroidery and patchwork. Most of it has been hand quilted, and it took me about 6 months to complete. It was an absolute pleasure to work on!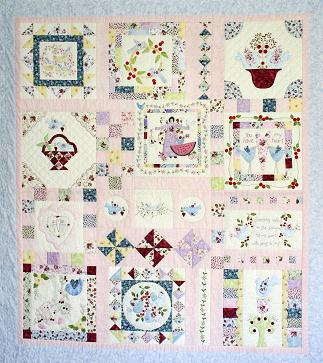 Bluebirds Singing


Where do you live? Where were you born and where did you grow up?
I live at Coffs Harbour, on the Mid North Coast of New South Wales, Australia. I was born in Sydney, where I lived until I was 12, and then we moved to Geelong, Victoria, where I spent my teenage years. Our family then moved back to Sydney, but I later found my way to Coffs Harbour and have been here since 1971.

What does your family think about your quilting? I have a husband, Kevin, and a grown up family. Kevin is very supportive and helpful with my "passion".

Do you like to design your own designs for your quilts?

I usually design "quilt as you go" methods, as I have a problem with my arms and shoulders and it is easier to manage quilting the rows and then joining them together. I have attached some photos of my works, they are all done using a "quilt as you go" method.

Do you enjoy machine quilting or would you prefer to hand quilt?
I love to hand quilt, but it is not always possible, so machine quilting is second choice.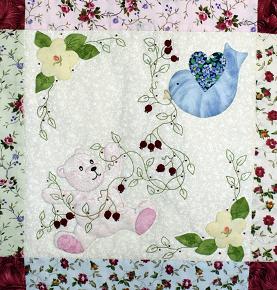 Detail of a Bluebirds Singing block


Has quilting ever helped you through a time of struggle or heartache? Can you share about that?

Yes, actually quilting was my "saviour". In 1999 I was medically retired with an RSI problem, which affected both my shoulders and arms – I had both wrists in splints for 12 months! When I started patchwork I had to work out ways to make it easier for me, it was a struggle to use the rotary cutter and all the other utensils required to make a quilt. However, I persevered and discovered other ways to make it all happen. That is when "quilt as you go" really helped me, as I was able to still do what I loved without it being too hard.

What is your favorite quote or motto?

"If you have a talent, use it in every way possible. Don't hoard it. Don't dole it out like a miser. Spend it lavishly like a millionaire intent on going broke".
That was written by Brendan Francis, and I found it on "Seasons of the Heart" booklet.

Is your best friend a quilter?

I have lots of friends; however my very special friend, Anne Beattie, is more of an embroiderer than a quilter. She is a real treasure and helps, and encourages, me in all of my endeavors. We work really well together, and make lots of quilts for the community (and friends). Anne doesn't have very much time to devote to actually sit at the machine, but every spare moment she can be found with a needle and thread in her hand and she does some beautiful work! Anne and I also organize a Retreat each year at Darlington Park, about 30 mins north of Coffs Harbour. We have 16 ladies stay for two nights, plus another 10 day visitors. We sometimes organize a structured workshop, but mostly we just take a UFO, which gives us the time to just sit and stitch. We have been organizing the retreat for about 8 years and all the ladies love to come. There is a lot of stitching, plus lots of chatting and lots of eating (with the compulsory "happy hour" each night), thrown in for good measure!

Do you ever teach classes? What is your favorite class to teach?

Yes, I have a small class at home each week (just a group of 6 ladies). I also get invited to teach at groups in the local area, which I love. Once again, it is "quilt as you go" that they are all interested in learning and I am happy to share my skills with these ladies. I have also taught at "Creative by the Sea" three years in a row. It is held at Coffs Harbour annually. I have also had 5 projects published in "AP&Q" magazine, and that was a thrill. Also, I was invited to teach at Norfolk Island last October, which was a great experience. I taught needle turn appliqué and the ladies enjoyed their day with me. The end result was a needlework pouch.

Do you have any suggestions for quilters who are trying to fit more quilting time into their day?

Yes, I am very rigid with my time and try to stick to a timetable – which comes unstuck when Anne phones to see if I can join her for a coffee! I try to have set days for certain tasks – Monday is housework day, Tuesday morning I shop. I am usually doing my groceries about 7.30am, and then meet Anne and another friend, Lyn, at 8.30am for any early morning coffee. Then it is time to finish off the shopping, before heading home, which is usually around 11.30am. I then have a quick bite to eat and get ready for my class the next day. I like to bake biscuits or a slice for Wednesday, so that gets done in the afternoon. Wednesday is "girls day", Thursday is Coffs Quilters, Friday is a "me day", where I try to do some stitching. Saturdays I meet up with some ladies for a stitching morning, which only leaves Sundays. These are usually either spent with Kevin, or some more stitching. So, as you can see, I try to stick to a very rigid program, that way I can get more done. I am now President of Coffs Quilters, so that also takes up a lot of my time, but I love what I do. We have our Annual Exhibition coming up in August, so we are very busy organizing the event. I certainly enjoy the friendships I have made along my "quilting journey".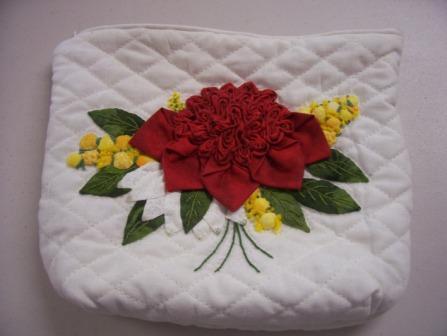 Needle turn appliqué pouch depicting Australian wildflowers
Gorgeous Mariners Compass made at a Lessa Siegele workshop


Related Articles
Editor's Picks Articles
Top Ten Articles
Previous Features
Site Map





Content copyright © 2023 by Judie Bellingham. All rights reserved.
This content was written by Judie Bellingham. If you wish to use this content in any manner, you need written permission. Contact Judie Bellingham for details.