Guest Author - Elizabeth Darrach
Hello, and welcome back! I hope youīve been enjoying some of the new January romances hitting the shelves now.
The first book I read for this week is called

Jimmy's Girl by Stephanie Gertler (Dutton). This is a first novel, and more of a love story than a romance. I can hear you asking whatīs the difference? Thereīs one important element that makes a romance a romance, and thatīs the happy ending. You know when you get to the end of a romance that this couple is going to be together forever. Not so with a love story, such as this one. However, itīs a really good book, and if youīve ever been nostalgic for your first real love, this is a safe way to wonder "what if." Emily Hudson has most of what she wants: a family and success with her painting. But her husband is distant, and she wonders what ever happened to her first love, Jimmy Moran. And she does what most of us will never do: she tracks him down. I loved these characters, though when I reached the end, I was very unhappy with the ending of their story. However, they do what they have to do. Very moving and realistically drawn characters. Iīm giving this one four of Cupidīs five arrows--Iīd give it more, except for the ending.


Next up is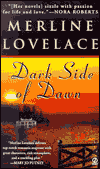 Dark Side of Dawn by Merline Lovelace (Signet). Jo West loves her life as a military helicopter pilot, but her life is turned upside down one day when she stops during a routine flight to pull a man from a burning car. That man turns out to be Alex Taylor, the grandson of a former president, whoīs very interested in Jo. Though this book is billed as romantic suspense, itīs really more suspense than romance, and not very suspenseful at all. The hero isnīt who youīre led to expect, and then is MIA for about half the book. Not a keeper for me. This one earns only two of Cupidīs arrows.


Finally, we have

Swan Maiden by Susan King (Signet). Juliana Lindsey wants nothing more than to see her beloved Scotland rid of the hated English. However, her capture by the English knight Gawain Avenel forces her to reconsider. Gawain hides his Scottish blood in his own secret quest here in Scotland while he tries to manage the lass who is now his bride. While I love Scottish-set romances, and this one has some lovely details in it, it moves a bit slowly in parts for me. Iīm giving it three of Cupidīs arrows.


Until next week, happy reading!