Pirating Software - Illegal and Dangerous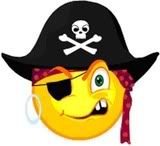 Are you a pirate? If you have ever downloaded something illegally you are. I am not referring to the swashbuckling, jovial, buccaneer excitingly portrayed in films either. This sort of pirate downloads media for free despite the fact that the media isn't complimentary – it's for sale. This pirate reasons that they shouldn't have to pay hard-earned money for a song, or a movie, or a game. But what that pirate doesn't realize is that obtaining software illegally is a sure way to catch a deadly virus. Here are a few reasons why.
That song, movie, game, or program is free for a reason.
Just think about it. It's a new item that the rest of the world is paying money to obtain. So why is someone else offering it for free? Most likely it isn't out of the goodness of their heart. Instead it's for a golden opportunity to invade your privacy. Downloading along with that pirated freebie you desperately wanted is a nasty little bug that you definitely didn't want.
When's a better time to sneak something past you than when your defenses are down?
Most people don't bother to scan something they've pirated before they open it. The very nature of pirating typically includes an unwillingness to wait. That impatience can lead to chaotic downloading without taking the time to carefully examine the contents of a download for security risks. Hackers know this and take full advantage of it by loading up those free downloads with trojans, worms, and viruses. They count on the fact that you aren't going to both with safety.
Remember the nature of a virus is to spread.
Whether it's a virus, a trojan, or a worm, it needs to spread to be the most destructive. So when you download something with a bug attached, that bug is going to follow you around. When you send a few emails, upload some pictures, or forward that pirated item to a friend, you also run the risk of sending them an unwanted hanger-on. Now you've helped to spread malware.
This article is referring specifically to
pirated
material. That's music, video, software, or anything that is sold commercially that you did not pay for but downloaded anyway. You may have obtained it from a site claiming that you can get something for nothing – get the latest movie, a hot new song, or popular software for little or no money. These sites are not reputable and only want access your computer – and your information. Not all freeware or shareware sites are bad news, however. Some of them are actually very good resources. To ensure that you are downloading safely and legally, do a little research and use a
lot
of common sense.
Before you download that song or decide you can't wait to see that new movie like everyone else, you need to ask: What's the point of pirating software if you can't even use it because your computer is ruined?
This site needs an editor - click to learn more!

You Should Also Read:
Why is piracy illegal?




Related Articles
Editor's Picks Articles
Top Ten Articles
Previous Features
Site Map





Content copyright © 2022 by Rayna H. Battle. All rights reserved.
This content was written by Rayna H. Battle. If you wish to use this content in any manner, you need written permission. Contact BellaOnline Administration for details.