Guest Author - Elizabeth Darrach
I know itīs not quite summer, but itīs close enough now to call it that. What have you planned for your summer?
Certainly all the normal summer things like vacations, gardening and swimming. But what about making time for all the great romances that will be available for your reading pleasure? Maybe sitting on a bench beneath a shady tree. Or swinging gently in a hammock. Perhaps curled up in a chair tucked away in the corner of the garden with the scent of flowers and the hum of honeybees in the air.

Wherever you choose, there will be lots of romances to choose from, including a new Viking time travel from Sandra Hill, a supersexy anthology from Kensington by the same authors who participated in last yearīs--Bertrice Small, Robin Schone, Thea Devine and Susan Johnson--a wonderful historical from Mary Jo Putney which Iīll be reviewing shortly, and hot contemporaries, such as Suzanne Brockmannīs latest and one from Stella Cameron. All of our favorite authors are coming out to play, and weīll have many choices for filling our leisure time.


This week, Iīve read one appropriate to our title: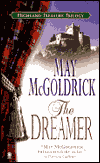 Dreamer, Vol. 1 by May McGoldrick (Onyx, available now). Catherine Percy is on the run for her life after the death of her father. She and her two sisters have fled separately to Scotland into the care of different families her mother has asked for help. Catherine has gone to John Stewart, Earl of Athol, and unexpectedly finds herself the bride of this unusual man. But Catherine has plans to open a school and teach, and John must deal with his bastard brotherīs schemes as well as protecting Cat from those who seek her and her sisters. This is truly a delightful story, and thankfully, the first book in a new trilogy called Highland Treasure. Of Cupidīs five arrows, this one earns four. Iīm looking forward to the next two stories in this series very much.

See you next week.