Guest Author - Elizabeth Darrach
Welcome back! Be honest: how many of you are too busy doing spring stuf to read? You know, the yard, the weeding, house cleaning. To tempt you to take a break, Iīve got a few new books, all available now, for you this week.
First,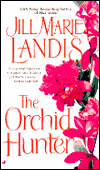 Orchid Hunter by Jill Marie Landis (Jove) is a fun read. Joya Penn never knew she had family other than her beloved father. Then Trevor Mandeville appears on an orchid hunt and she learns she has a sister. But her journey to the ballrooms and mansions of London from her jungle home is filled with tention, not the least of which is the attraction between Joya and Trevor. There is a delightful subplot with Joyaīs sister Janelle and her unsuitable suitor Garr, but I wonīt give away the story. Toss in Joyaīs deepest secret and a vindictive old woman, and you get a nice mix. Of Cupidīs five arrows, Iīm borrowing three and a half for this touching tale.


The second flowery book this week is "Forever Rose" by Janet Wellington (Jove). After a meeting with a clairvoyant at the local fair, Taylor Rose Martinīs life is forever changed when she travels back in time. This story has a little of everything tossed into it--time travel, ghosts, seances. And a hero whoīs planning to kill Wyatt Earp. I had a hard time with this, if only for that reason. Except there were more reasons. Taylor and Jackson Hoyt donīt spend enough time together to convince me that theyīre truly in love and not just coming down with a bad case of lust. And the plethora of secondary characters had me making a list to keep track of everyone. Iīm only giving this one two of Cupidīs arrows. Not a keeper for me.


The third book this week is

Certain Smile by Judith Michael (Ballantine). I have to admit not reading any of Ms. Michaelīs other books before. This one hasnīt convinced me to seek them out. I know sheīs done romances in the past, but this falls squarely into mainstream fiction to my eyes. Miranda Graham is on a business trip to China and meets Yuan Li on her arrival. She cannot stay, and he cannot leave. I donīt see a happy ending here, and if thatīs one of the things you like best about your romances, skip this. This gets only two of Cupidīs arrows unfortunately.


Finally, "Bedazzled" by Christine Holden (Jove) was a funny story of a magic bowl named Elvis who helps Ashley Douglas to control her spendthrift ways while trying to convince the love of her life, Jordan Bennett, that sheīs changed. I had to laugh out loud at Elvisīs antics. Ashley and Jordan were truly deserving of some of the things that happened to them as a result of the bowl throughout this tale. It was an enjoyable way to pass the time, but Jordanīs a jerk sometimes. Iīm giving this one three of Cupidīs arrows.

Until next week, happy reading.