Tips To Keep Your Landscape In Shape During The Dog Days Of Summer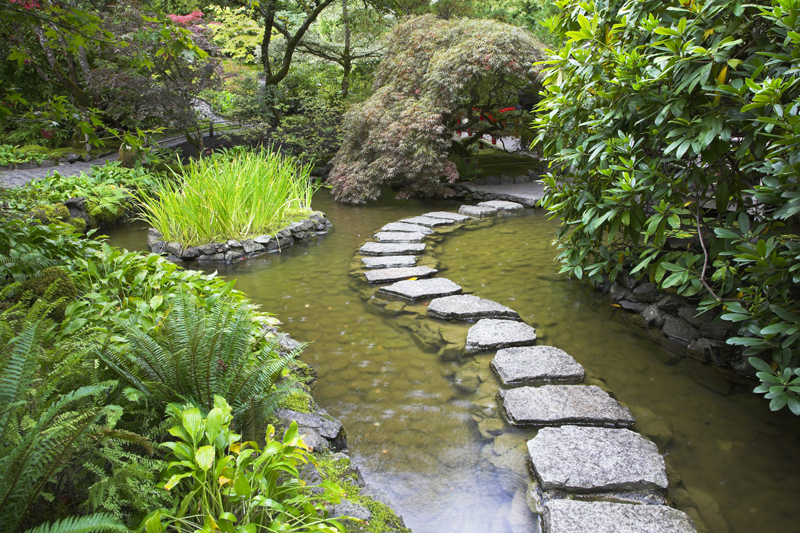 When spring arrives, I'm so eager to get into the garden. But once, the summer weather arrives my enthusiasm wanes. I simply don't like working in the heat.

What can we do to keep our landscapes in shape during the dog days of summer? What really helps is to choose heat-loving plants adapted to warm conditions.

One of my favorites happens to be the moss rose or portulaca. Numerous varieties of this are sold as bedding plants. Its growth habit makes it perfect for hanging baskets and containers. The thick succulent leaves mean it's less likely to wilt. This sun-lover comes in a rainbow of flower colors, so take your pick. Depending on the variety, they may be singles or doubles.

If you want a drought-resistant flowering perennial for a ground cover, look for the hardy ice plants (Delosperma). These will maintain their good looks throughout the summer months. There are several species available, and the flower colors may vary from yellow to purplish-pinks. These are originally from South Africa.

In general, daylilies tolerate heat and humidity very well, and keep their
good looks during the summer months. Daylily rust, a relatively new disease, has been discovered in the U.S. So it is probably a good idea to buy varieties that are resistant. These would be Mac the Knife, Holy Spirit, and Butterscotch Ruffles. Check out the award winning All-American daylilies. Three of these were announced in 2002. My favorite is Bitsy, a petite plant with solid lemon-yellow blossoms. Judith has lovely, pastel pink blooms. The final winner seems to yell for attention. Leabea Orange Crush has orange petals with a deeper colored throat.

Though we generally think of daylilies as ornamentals, these are suitable for herb gardens and for the edible landscape as well. These flowers are edible, and have been used in herbal medicine. For example, the Chinese once made spring tonics of the flowers. The Pennsylvania Dutch used the roots to treat stomach cramps. Read more about the daylily and numerous other plants in Old Garden Cures & Curiosities by Gerald S. Lestz. This engrossing booklet is available from John Baer's Sons. (Other Baer publications include The Lore of Luck, I Wish I'd Said That, and Plant Power-A-B-C)

When you go to the garden center, what other heat-tolerant plants should you look for? You're safe in buying any of the Athens Select plants. These are tested and selected at the University of Georgia-Athens trial gardens. The group now includes twenty or so different varieties, including some herbs. This line of plants features superior hardy and tender perennials as well as annuals. Cleome (spider flower) Linda Armstrong is a relatively new addition to the collection.

To maintain an attractive garden during the summer months, choose drought resistant or tolerant plants. These will require minimal watering and attention during the summer months. This approach to gardening is referred to as xeriscaping, which means landscaping with drought tolerant plants and water-conserving techniques. If you're paying for water, xeriscaping is a money-saver.

For an in-depth, step-by-step guide to choosing drought-tolerant plants, I refer you to "Xeriscape Plant Guide" by the Denver Water Conservation Office in collaboration with Xeriscape Colorado. Fulcrum Publishing published it. This indispensable book belongs in every gardener's library. It features one hundred drought-resistant plants. These special plants were chosen not only because they require minimal water, but also for their superior landscaping attributes, and their ability to withstand tough growing conditions. It is easy to find the plant profile you want in this reader-friendly volume. There are different sections for trees and shrubs, perennials and vines, ground covers and grasses, annuals, and shade plants. Each species is illustrated with lots of color photos and drawings showing the plant in different seasons. Each contains the specie's size, tips on its landscape use, a description, growing tips, suggested companion plants, and its native range.

By adopting xeriscaping concepts and choosing heat-tolerant flowers, your garden can look its best despite the heat and humidity of summer.



Editor's Picks Articles
Top Ten Articles
Previous Features
Site Map





Content copyright © 2021 by Connie Krochmal . All rights reserved.
This content was written by Connie Krochmal . If you wish to use this content in any manner, you need written permission. Contact Connie Krochmal for details.