Guest Author - Elizabeth Darrach
Wow, it´s March already! How did that happen so fast? I´ve read three new books for you and have my thoughts on them here. Hope you´ll let me know what you think of them, too.
The first is "Cat and the Countess" by Casey Claybourne (Berkeley). In this historical, Elizabeth Langham, Countess Pemsley and Wildcat MacInnes meet in a stationery shop when she fondles his behind as she´s picking his pocket. When she disappears, the Scots-Indian tracks her down to find his missing bandolier bag. The story idea was cute, but I found I had a hard time dredging up any sympathy for Elizabeth´s secret problem, which is likely why I couldn´t see the chemistry between the two of them, and I felt little sympathy for Elizabeth´s other secrets either. A cute tale, but not a keeper for me. This one gets only two of Cupid´s arrows, I´m afraid.


It Takes Two by Adrienne Burns (Jove) was the second book I read this week. What a great story! The misunderstanding between the hero, football player Zachary Wayne, and the heroine, pet shop owner Justine Diamond, was stretched a little thin at times, but I´d read this one again just for the pair of lovebirds--witch and warlock, Mini and Reuben--who were the matchmakers, albeit reluctant, in this tale. They had the best of intentions in trying to get this pair to reunite, but sometimes things went just a tad awry with their plans. Of Cupid´s five arrows, this one gets three and a half.


The last book this week is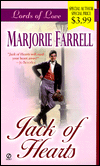 Jack of Hearts by Marjorie Farrell (Signet). Rich heiress Anne Heriot is seeking a titled husband. Jack Belden, Viscount Aldborough, is at the bottom of her list of suitable candidates, since he´s a renowned flirt. So why is it that he seems to be the one her heart leans toward? I would have liked this story better if there were a few less secondary characters. Anne and Jack spent too little time together for me, especially in the middle third of the book. And I suspect that several of the secondary characters were leads in another of Ms. Farrell´s books, so I guessed that must be the reason they figured so prominently in this story. To be quite honest, I was more drawn to Anne´s companion and her suitor and the subplot of their romance than Anne and Jack. This one is no keeper for me either, I´m afraid, earning only two and a half of Cupid´s arrows.

Let me know what you think of these books once you´ve read them. I´d love to hear from you.