Guest Author - Elizabeth Darrach
Reading historical romances can take you far away from all your modern-day worries, to a time and place where things were simpler. When I was young, I wanted to be Laura Ingalls or Jo March. I wanted to live a hundred years ago and wear the beautiful hoop skirts. Then I grew up and realized how hard those women had it. That doesnīt mean I donīt still like to live in that time, only for a litte while. Thank heavens for historical romances. This week Iīve read three, all available now. This way I can live in the past and still have my modern conveniences!
"Great Caesarīs Ghost" by Cynthia Sterling (Jove) is a humorous story of the ghost of a traveling salesman, his son and the woman his son comes to love. Jed Hawkins if trying to carry on his fatherīs dream of selling his curative and entertaining the crowds. Nixie Dengler is a spinster at 25, burned once by a traveling salesman and no wish to become involved with another. Caesar has other ideas, though, and with his meddling and the attraction that simmers between the pair from the beginning, so does fate. Itīs a bumpy ride, but even through the cad from the past reappears, Nixie and Jed finally do make their way to each other. This one earns three and a half of Cupidīs arrows.


"Woven Dreams" by Joanna Hampton (Jove) has a more somber tone. Sarah Granger runs a mission for needy children in New York City during the Civil War. Her fiance was killed in a battle in the war, and her grief caused her to stop quilting. Now, though, with the arrival of a shocked little boy and his baby sister, and the unrest in the city over the coming conscription lotteries to draft men for the Union Army, she begins again, keeping the children in her care occupied. Bejamin McCauley, an officer in the neighborhood, comes into her life with the little boy and baby, and seem to reappear for one reason or another, not the least of which is the way they feel when theyīre together. They have more than their share of ups and downs, including a friend who isnīt what he seems, but by the time they reach their happily ever after, the reader is ready, too. A very quick read. Iīm giving this one three arrows.


The last book I read this week was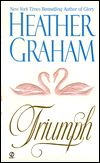 Triumph by Heather Graham (Signet), the last book in her McKenzie series. This one is also set during the Civil War, and tells the story of Tia McKenzie and Taylor Douglas, on opposite sides of the war. She is caught by Taylor as Godiva, leading Union soldiers astray. The two find themselves married and still fighting. The historical details are wonderful in this book, but I was a bit peeved at Taylor for not understanding his own feelings or Tia for most of the book. This one also gets three arrows. Enjoy!

Until next time, happy reading!